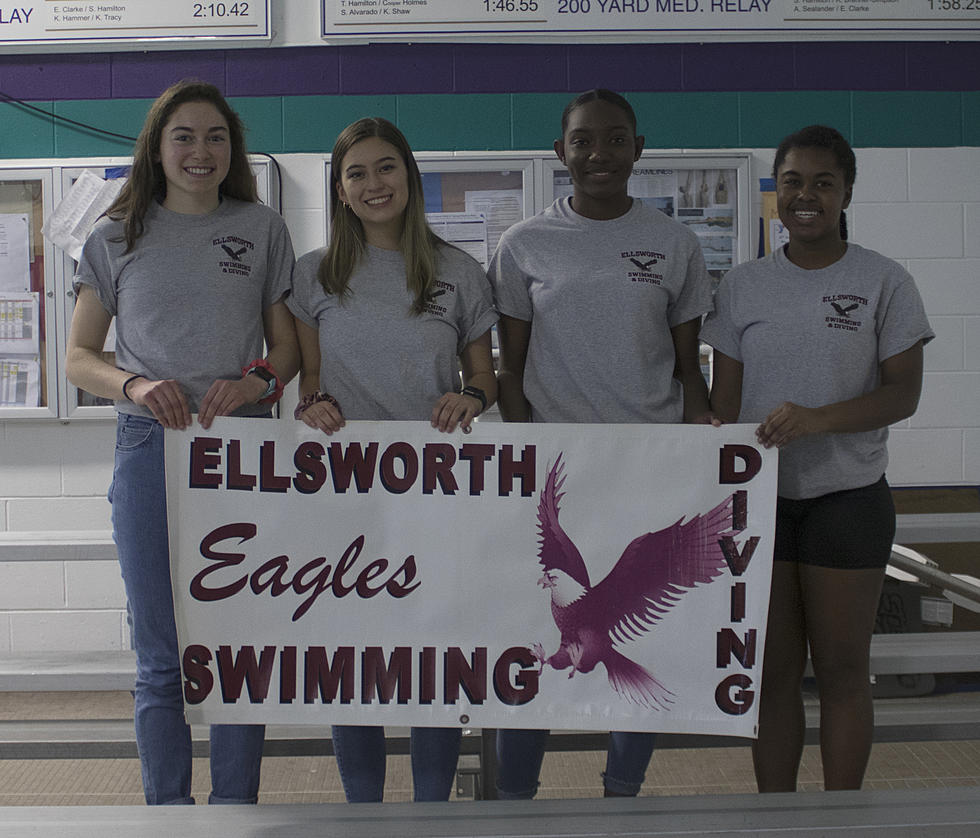 EHS Swims By GSA on Senior Night
Caitlin MacPherson, Kristen Moseley (both team Captains), Brianna Simpson, and Danaee Felix (l – r in photo). Photo JF Burns
The Ellsworth Girls and Boys Swim Teams swam past GSA on Friday, January 31st at the Downeast Family YMCA. The Girls beat GSA 119-30 while the Boys beat GSA 95-36.
Highlights from the meet from Coach Jim Goodman include
Girls 200 Med Relay, knocked off almost a 1.5 seconds off their best time so far achieving 2:00.28.
Kristen Moseley did her best split time in her leg of the 200 MR B team for Fly at :36.00.
Mike Farley did his best 50 split time ever in his 200 MR B team for Free at 31.07.
Kristen Moseley qualified for States in the 200 Free with a time of 2:28.08.
Rachael Hastey of Sumner HS dropped almost a second in her 200 Free.
Jordan Berry dropped 4 seconds off her 200 IM time.
Joey Khederain of Sumner HS dropped almost a second off her 50 time.
Henry Scheff dropped almost ½ second off his 50 time.
Ben Osterlin dropped 2/10 second off his 50 time.
Caitlin MacPherson dropped almost 2 seconds off her Fly time.
Lilja Hanson established her time for the her fly at 1:20.09
Nick Partridge had his best HS time for his fly at 1:00.54.
Caroline Mazgaj dropped almost 5 seconds off her HS 100 Free time with a new best time of 58.57. !!!
Leah MacPherson dropped about 3/10 of second off her 100 Free.
Brooke Spaulding time for the 100 Free was her best time ever of 1:36.79, her last recorded time was 2:04.30!!!!
Brianna Simpson dropped almost 12 seconds in her 100 Free time to 1:59.23.
Ben Osterinn dropped 6 seconds in his 100 Free time from 1:11.15 to 1:06.71
Lucas Fendl set a new time for himself in the 500 Free of 6:13.02 and qualified for States.
Caitlin MacPherson qualified for States in the 100 Back.
Brooke Spauding dropped ½ in her 100 Breaststroke.
Kristen Moseley dropped 2 seconds in her 100 Breaststroke.
The PVC Swimming and Diving Championships are Friday, February 7th at 6p.m. at Husson University.