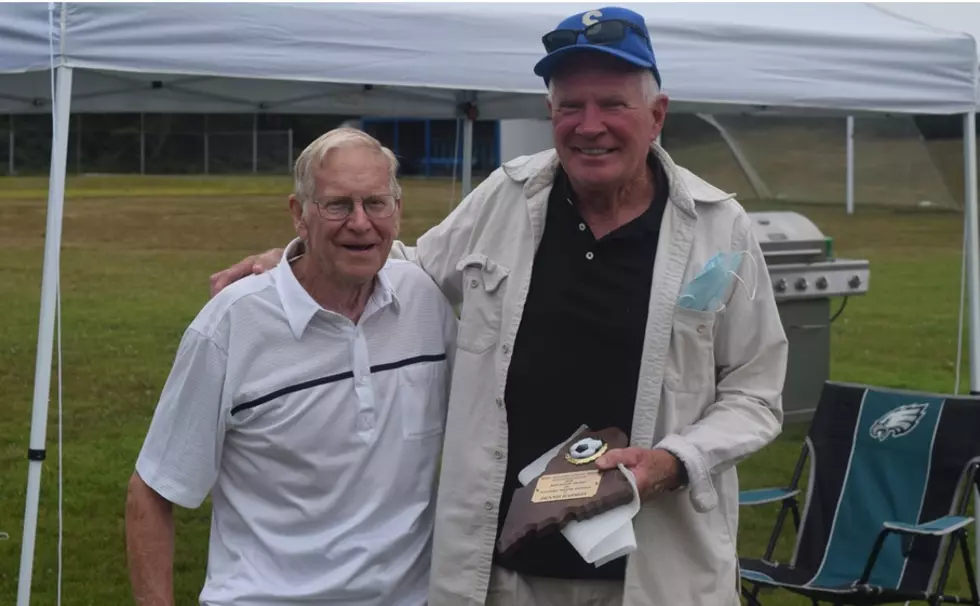 Denny Harmon Honored By Maine Association of Soccer Officials
(L-R) Bob White and Dennis "Denny" Harmon Photo Mike Mandell
On Tuesday, August 4th, long time soccer official Dennis "Denny" Harmon was surprised when he awarded the Bob White Award at Sumner Memorial High School in East Sullivan.
In May, 2014,  the Maine Association of Soccer Officials voted to establish the Bob White Award, which is to be awarded annually to a MASO official who best exemplifies the characteristics that Bob showed as an official and a person, and is selected from nominations made by local soccer officiating boards.
Denny Harmon is a long time member of the Acadia Soccer Board which services the schools of Hancock County as well as Searsport High School. Denny has been a valued member of the Acadia Board for over 40 years and served as interpreter and assignor for many years. He has officiated too many games to list but has worked, regular season along with many postseason, Regional and State Championship games.
The plaque that Bob presented to Denny references the three legs of the stool upon which Bob based his soccer officiating career,  Knowledge, Integrity, and Dedication.
Thanks to Fred Berry for the information and Mike Mandell for the picture