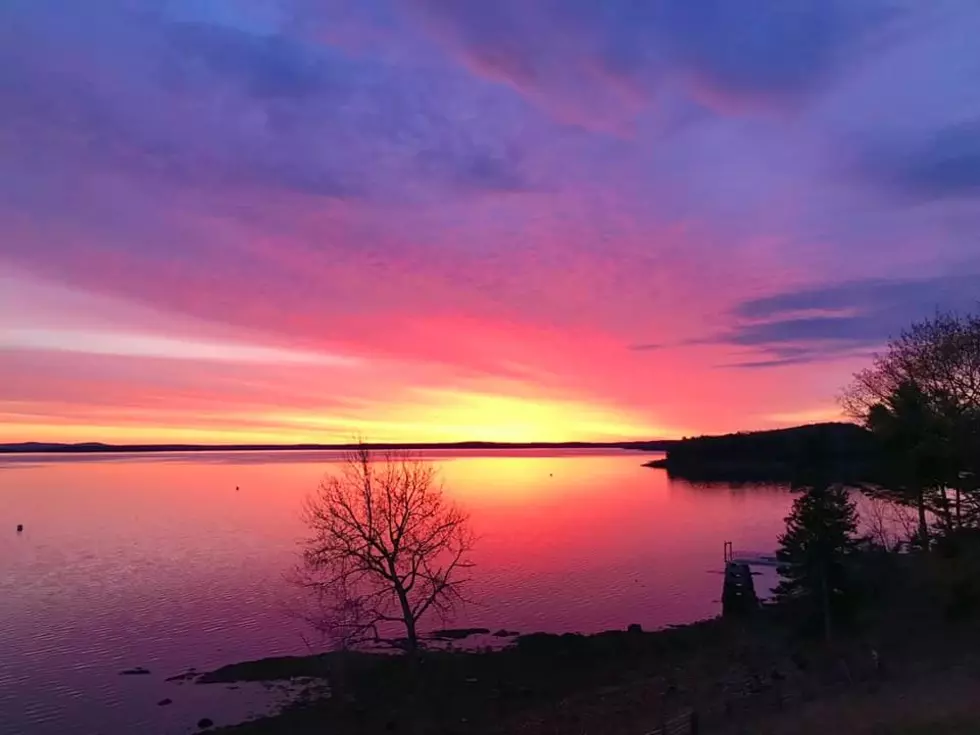 Bar Harbor Sunrise and Sunset Times April 2022
Sunrise in Bar Harbor Sunday, May 5, 2019 courtesy Bayview Hotel in Bar Harbor
It's hard to believe that it is April! Finally the sunlight is getting longer. We go from 12 hours and 50 minutes of daylight on April 1st to 14 hours and 15 minutes on April 30th!
Sunrise will be before 6 a.m. as of Friday, April 8th when sunrise will be at 5:59 a.m.
The full moon is on April 16th, and is known as the Full Pink Moon. According to the Farmer's Almanac the Pink Moon heralded the appearance of the "moss pink," or wild ground phlox—one of the first spring wildflowers.
Easter is on Sunday, April 17th, sunrise that day is at 5:41 a.m. in case you were planning on going to any sunrise services.
Here are the Sunrise and Sunset Times for April 2022
| Day | Date | Sunrise | Sunset |
| --- | --- | --- | --- |
| Friday | April 1 | 6:11 | 7:01 |
| Saturday | April 2 | 6:10 | 7:02 |
| Sunday | April 3 | 6:08 | 7:03 |
| Monday | April 4 | 6:06 | 7:05 |
| Tuesday | April 5 | 6:04 | 706 |
| Wednesday | April 6 | 6:02 | 7:07 |
| Thursday | April 7 | 6:01 | 7:08 |
| Friday | April 8 | 5:59 | 7:10 |
| Saturday | April 9 | 5:57 | 7:11 |
| Sunday | April 10 | 5:55 | 7:12 |
| Monday | April 11 | 5:53 | 7:13 |
| Tuesday | April 12 | 5:52 | 7:14 |
| Wednesday | April 13 | 5:50 | 7:16 |
| Thursday | April 14 | 5:48 | 7:17 |
| Friday | April 15 | 5:46 | 7:18 |
| Saturday | April 16 | 5:45 | 7:19 |
| Sunday | April 17 | 5:43 | 7:21 |
| Monday | April 18 | 5:41 | 7:22 |
| Tuesday | April 19 | 5:40 | 7:23 |
| Wednesday | April 20 | 5:38 | 7:24 |
| Thursday | April 21 | 5:36 | 7:26 |
| Friday | April 22 | 5:35 | 7:27 |
| Saturday | April 23 | 5:33 | 7:28 |
| Sunday | April 24 | 5:32 | 7:29 |
| Monday | April 25 | 5:30 | 7:30 |
| Tuesday | April 26 | 5:28 | 7:32 |
| Wednesday | April 27 | 5:27 | 7:33 |
| Thursday | April 28 | 5:25 | 7:34 |
| Friday | April 29 | 5:24 | 7:35 |
| Saturday | April 30 | 5:22 | 7:37 |
Check out the photos from a month full of sunrises during July 2021
MDI Sunrises July 2021
A month of sunrise photos taken by Officer Amie Torrey during the month of July 2021
Gallery Credit: Amie Torrey
More From WDEA Ellsworth Maine