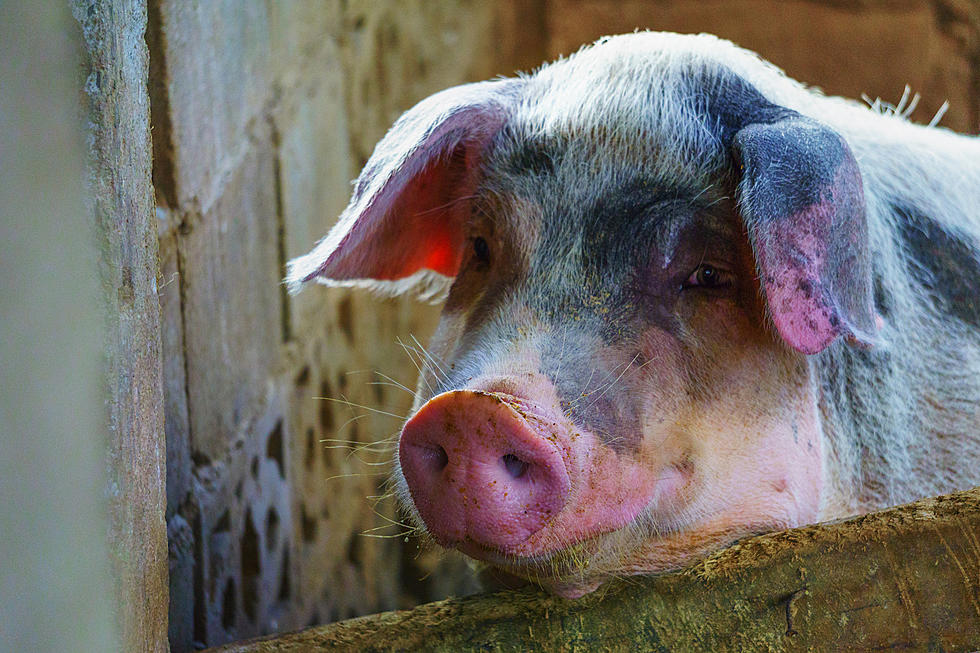 Baileyville Cops Respond to 'Pig Pile On The Pavement'
yaom
Just when you'd thought you'd seen everything.
We've written about the Baileyville Police Department in Washington County a few times before like the time they invited the entire community by the station house for hot dogs on the grill on New Year's Day, just because.
Or the time when Baileyville Police Chief Bob Fitzsimmons responded to a report of kids sledding too close to the street and then grabbed a sled himself to join in the fun.  The episode then may or may not have prompted a letter to the chief from a little girl that asked if he were single and if so suggesting that he and her mom "could be together and then you could be my dad."
So it doesn't come as any surprise to us that the photo showing three people struggling with a fully grown pig in the middle of a residential street in Baileyville was posted to Facebook yesterday, and generated a police response.
Sounds like the chief was a little surprised himself at the pig pile on the pavement, especially after he was informed by dispatch that the swine may be pregnant.
Thankfully the occurrence happened right beside a road sign that warned motorists to "slow down, children at play" so that everyone including Porky herself was safe in the middle of the street.
We imagine that the struggle continued until someone finally figured out that all it really took were a few treats of some kind to get the pot-bellied Miss Piggly Wiggly out of traffic and back into the pen.
But the photo taken yesterday was certainly worth its weight in bacon.
Be The Former President's Neighbor In This Home In Kennebunkport
Buy this home and then keep up with the neighbors in one of Maine's most exclusive summer neighborhoods.
This five-bedroom four-bath home is located at 271 Ocean Avenue in Kennebunkport just down the road from the Bush compound on Walker's Point. Buy it for $9.25 million, and then just imagine taking the dog out for a walk some summer morning and crossing paths with former President George W. Bush, your new neighbor.
There is no doubt that you'd experience the coast of Maine at its finest as you would own this classic Cape Cod-style home on 1.6 acres of land with 200 feet of coastline.
The place comes with a swimming pool that overlooks the ocean and you'd have your own tennis court to enjoy.
The home is listed by Legacy Properties Sotheby's International Realty and you can find out more on
Zillow.com
.
Peek Inside The Most Expensive House Currently For Sale In Maine
This $10.5 million compound on Hope Island in Casco Bay is the stuff that dreams are made of. With expansive grounds, a couple of guest houses, a horse barn, and a dock that connects to deep water frontage, what more would one desire?
More From WDEA Ellsworth Maine