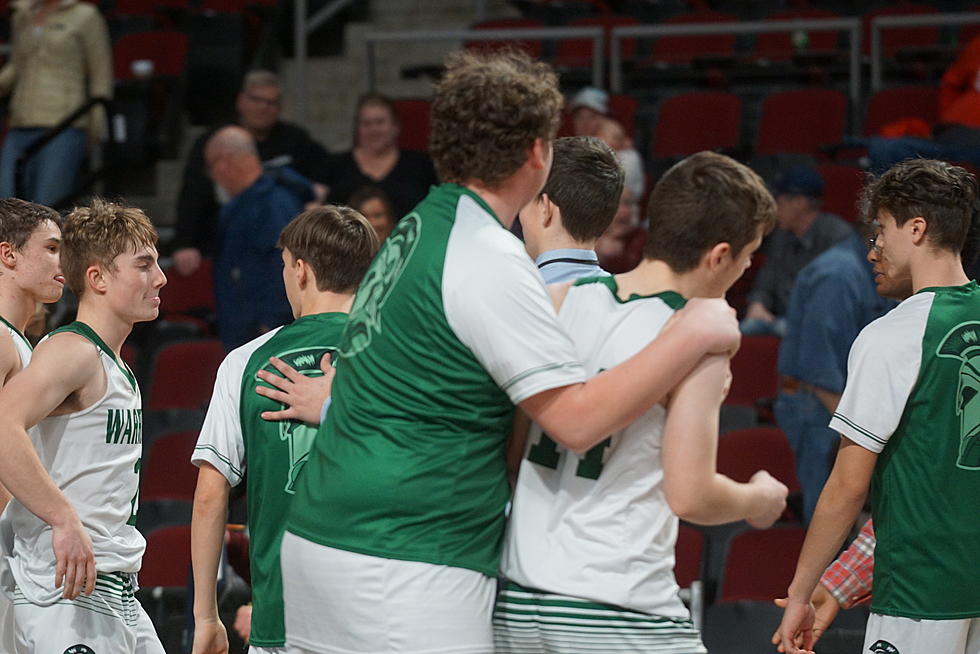 #2 Fort Kent Boys Nip #7 GSA 38-36 [STATS]
GSA-Fort Kent Photo Chris Popper
The #2 Fort Kent Warriors Basketball Team nipped #7 GSA 38-36 in the final game from the Cross Insurance Center on Monday, February 20th.
Fort Kent's Ethan Daigle made 1-2 free throws with 8.4 seconds left to give GSA a 2 point lead. GSA had a last second chance to win on a 3-pointer but the shot was short.
The game was tied 10-10 at the end of the 1st Quarter and Fort Kent led 26-14 at the end of the 1st Half. Fort Kent was up 27-18 at the end of the 3rd Quarter.
The Warriors were led by Ethan Daigle who had a game-high 18 points, including a 3-pointer and went 3-4 from the free throw line in the 4th Quarter. Bryce Valcourt , Ethan Raymond and Lance Gagnon hit 3's for the Warriors. Fort Kent was only 4-14 from the free throw line.
GSA was led by Azaiah Nelson with 16 points. Sol Lorio and Brockett Muir each had 7 points. The Eagles were 12-22 from the free throw line.
GSA's season comes to an end with a 14-6 record.
Fort Kent, now 15-4,  moves on to the semifinals against #3 Dexter. Dexter knocked Fort Kent out of Tourney 2022. The game is scheduled for Thursday, February 23rd at 7 p.m.
Line Score
| | | | | | |
| --- | --- | --- | --- | --- | --- |
| | 1 | 2 | 3 | 4 | T |
| George Stevens Academy Boys | 10 | 4 | 4 | 18 | 36 |
| Fort Kent Boys | 10 | 16 | 1 | 11 | 38 |
Box Score
GSA
| | | | | | |
| --- | --- | --- | --- | --- | --- |
| Name | PTS | 2PM | 3PM | FTM | FTA |
| Sol Lorio | 7 | 1 | - | 5 | 6 |
| Brady Pert | 0 | - | - | - | - |
| Wyatt Allen | 0 | - | - | - | - |
| Patrick Dagan | 4 | 2 | - | - | 1 |
| Cam Charette | 0 | - | - | - | - |
| Tristan Ciomei | 0 | - | - | - | - |
| Isaiah Radel | 0 | - | - | - | - |
| Emmett Allen | 0 | - | - | - | - |
| Emmett Allen | 0 | - | - | - | - |
| Aiden Sullivan | 0 | - | - | - | - |
| Sean Morey | 0 | - | - | - | - |
| Brockett Muir | 7 | 3 | - | 1 | 2 |
| Azaiah Nanson | 16 | 5 | - | 6 | 13 |
| Cam Walden | 0 | - | - | - | - |
| Colby Reynolds | 2 | 1 | - | - | - |
| TEAM | 0 | - | - | - | - |
| TOTALS | 36 | 12 | - | 12 | 22 |
Fort Kent
| | | | | | |
| --- | --- | --- | --- | --- | --- |
| Name | PTS | 2PM | 3PM | FTM | FTA |
| Keegan Cyr | 5 | 2 | - | 1 | 5 |
| Tyler Ryder | 2 | 1 | - | - | 2 |
| Ethan Daigle | 18 | 6 | 1 | 3 | 4 |
| Caleb Lavertu | 0 | - | - | - | - |
| Bryce Valcourt | 5 | 1 | 1 | - | - |
| Ethan Raymond | 3 | - | 1 | - | 1 |
| Gavin Serve | 0 | - | - | - | - |
| Lance Gagnon | 3 | - | 1 | - | - |
| Drew Deschaine | 0 | - | - | - | - |
| Will Morneault | 2 | 1 | - | - | 2 |
| James Lamarre | 0 | - | - | - | - |
| Tobias Naranja | 0 | - | - | - | - |
| Alex Nadeau | 0 | - | - | - | - |
| TEAM | 0 | - | - | - | - |
| TOTALS | 38 | 11 | 4 | 4 | 14 |
More From WDEA Ellsworth Maine