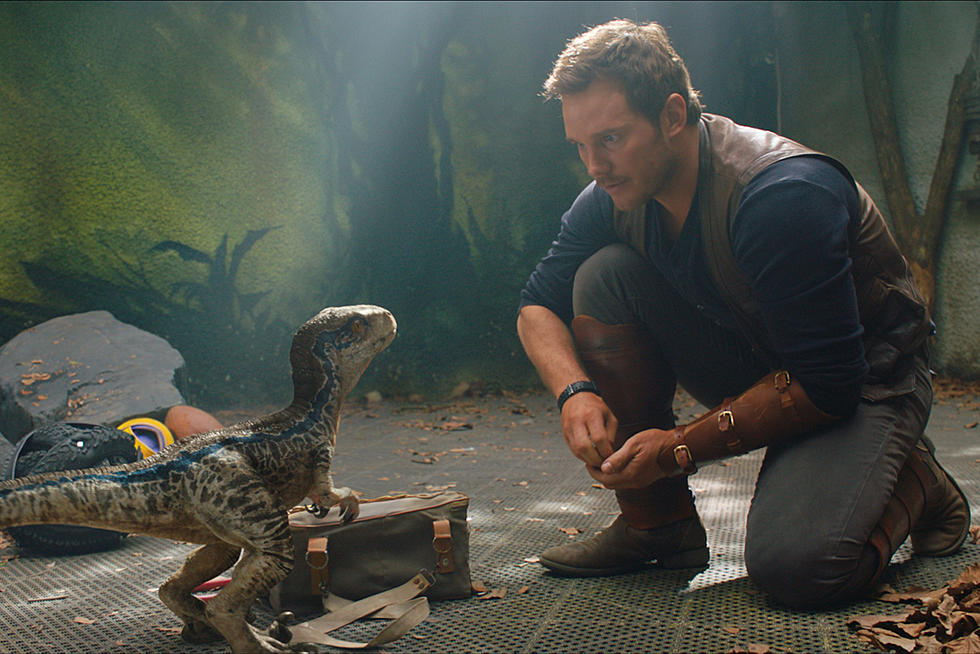 Weekend Box Office: 'Sicario' Couldn't Kill Off 'Fallen Kingdom'
Universal
| | | | | |
| --- | --- | --- | --- | --- |
| | Film | Weekend | Per Screen | Total |
| 1 | Jurassic World: Fallen Kingdom | $60,000,000 (-59%) | $13,378 | $264,787,335 |
| 2 | Incredibles 2 | $45,546,000 (-43%) | $10,328 | $439,729,514 |
| 3 | Sicario: Day of the Soldado | $19,015,000 | $6,224 | $19,015,000 |
| 4 | Uncle Drew | $15,500,000 | $5,653 | $15,500,000 |
| 5 | Ocean's 8 | $8,035,000 (-30%) | $2,345 | $114,707,181 |
| 6 | Tag | $5,635,000 (-30%) | $1,774 | $40,887,808 |
| 7 | Deadpool 2 | $3,450,000 (-34%) | $1,648 | $310,349,858 |
| 8 | Sanju | $2,550,000 | $7,163 | $2,550,000 |
| 9 | Solo: A Star Wars Story | $2,293,000 (-49%) | $1,386 | $207,279,115 |
| 10 | Won't You Be My Neighbor? | $2,290,000 (+25%) | $3,502 | $7,488,082 |
Fallen Kingdom's $60 million was well down from the first Jurassic World's second weekend in theaters; in 2015, the first World grossed an impressive $106 million, only dropping about 50 percent from its $208 million debut. By this point in its run, Jurassic World 1 had earned $402 million in the U.S. alone; Fallen Kingdom has grossed $264 million to date. But it's also grossed $667 million more worldwide, for an international total of $932 million. So it's not recreating the success of its predecessor, but it's still selling a whole lot of tickets.
On the flip side of things, Incredibles 2 has now grossed $439.7 million. That's way beyond the $261 million domestic total of the first Incredibles from 2004, and Incredibles 2 hasn't even been in theaters for three full weeks yet. It's already the second biggest film in Pixar's history in the U.S. (behind only Finding Dory) and eighth biggest worldwide. If Brad Bird ever wants to make a third Incredibles, I think it's a very good bet Pixar would produce and release it.
Soldado, the sequel to the hit 2015 drug thriller, debuted with just shy of $20 million. The first Sicario, directed by Denis Villeneuve and starring Emily Blunt, Benicio Del Toro, and Josh Brolin, opened in limited release; when it went wide it grossed $12.1 million and wound up making $46.8 million in U.S. theaters by the end of it his run. So Soldado is off to a solid start, particularly since Villeneuve and Blunt didn't return for this follow-up. In fourth place was the comedy Uncle Drew, which earned $15.5 million, another very solid start for its budget and genre. And fifth place this weekend went to Ocean's 8, which dropped just 30 percent and grossed another $8 million (tee hee). In the next couple days it will pass Ocean's Thirteen's domestic box office total, so we could definitely see an Ocean's 9 one of these days.
On a per-screen basis last weekend, the top movie was a little documentary called Three Identical Strangers, about the lives of three identical triplets who were separated at birth and then found each other later in life. On five screens around the country, the film grossed $163,023, for an average of $32,605. In second place was Leave No Trace, the latest drama from Winter's Bone director Debra Granik. It earned an average of $24,018 on nine screens around the country.
Gallery - The Biggest Second Weekends in Box-Office History:
More From WDEA Ellsworth Maine