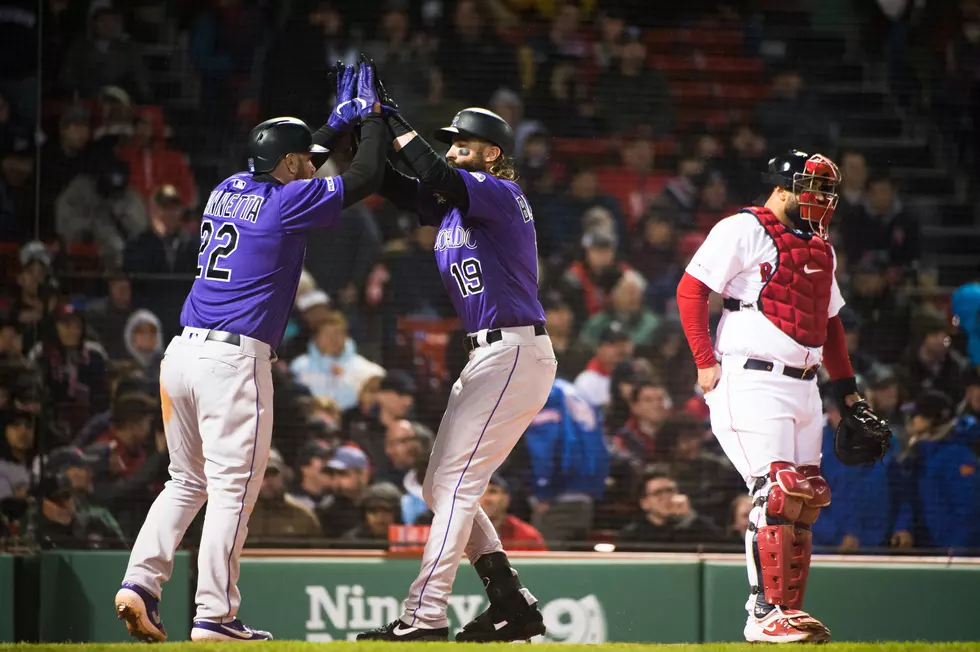 Red Sox Let Rockies Steal Game Lose 5-4 in 11 Innings [VIDEO]
Photo by Kathryn Riley /Getty Images
The Boston Red Sox 5 game winning streak came to an end on Tuesday, May 14th, losing to the Colorado Rockies 5-4 in 11 innings, despite a record setting performance by Chris Sale
Sale became the 1st pitcher with 17 strikeouts in 7 innings or less. He didn't allow a run through 6 innings, but gave up 2 runs in the 7th and was pulled at the end of the inning, after 108 pitches. Sale ended up allowing just 3 hits and 17 strikeouts. He didn't walk a batter and left with a 4-2 lead. He ended up with a no-decision
Brandon Workman who had been lights out this season in relief allowed 2 runs on 2 hits in the 8th inning as the Rockies tied the score. He had retired 41 batters in a row before giving up the 2 runs.
Matt Barnes pitched a scoreless 9th and 10th inning, not allowing a hit.
Ryan Brasier walked 2 and allowed a hit in the 11th, as Colorado took the lead.
The Red Sox hit 3 solo homers, JD Martinez and Rafael Devers hit solo home runs in the 3rd inning, and Michael Chavis hit his 7th in the 2nd inning.
The Red Sox are now 22-20, 4 games behind the Tampa Bay Rays. The Red Sox and Rockies will play the final game of the 2 game series on Wednesday, May 15th. Eduardo Rodriguez is scheduled to pitch for Boston. The pregame will begin at 6:10 with the 1st pitch at 7:10. Hear the game on AM 1370 WDEA in Ellsworth and Bar Harbor area and The Rock 101.9 FM, WOZI in Presque Isle.
More From WDEA Ellsworth Maine