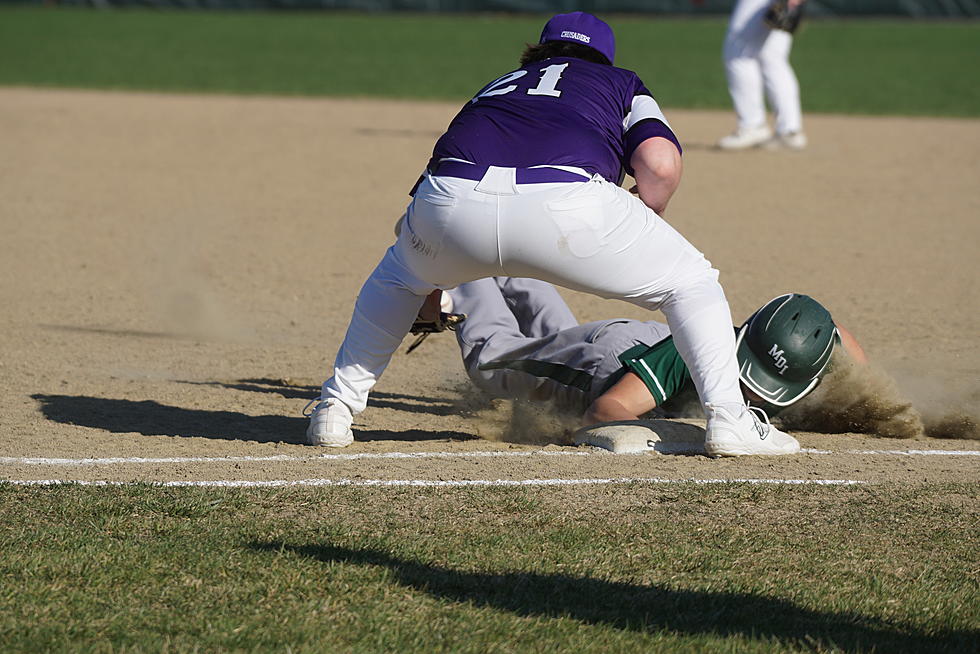 MDI Trojans Rally to Beat John Bapst 7-5 [PHOTOS]
MDI-John Bapst Baseball April 28, 2023 Photo Chris Popper
The MDI Trojans rallied from 3-0 and 5-3 deficits scoring the last 4 runs of the game and beat the John Bapst Crusaders 7-5 on Friday afternoon, April 28th in Bar Harbor
MDI used 3 pitchers on the afternoon. Logan Blanchette started on the mound and went 2.0 innings allowing 2 hits and 3 runs. He struck out 2 and walked 4. Colin Sullivan came on and pitched 2.2 innings allowing 3 hits and 2 runs. He struck out 4 and walked a pair. Joey Wellman-Clouse picked up the win, pitching the final 2.1 innings and holding the Crusaders to just 1 hit, walking 1..
Jack Mason started on the mound for the Crusaders. He went 3.0 innings allowing 4 hits and 3 runs, striking out 3 and walking 1. Sam Bay went 1.1 innings and was charged with the loss. He allowed 2 hits and 3 runs, walking 4 and striking out 1. Caleb Robbins pitched the final 1.2 innings Caleb Robbins pitched the final 1.2 innings allowing 2 hits and 1 run. He struck out 3 and walked 1.
Jay Haney and Brendan Graves led the Trojans offensively. Haney went 3-4 with 3 runs batted in, while Graves went 3-3 with a walk and 2 runs batted in. Sullivan and Cal Hodgdon each had a hit.
Mason had a double for the Crusadars and Sam Bay had a double and single. Lucas Gagnon, Connor Simcox  and Caleb Robbins each singled.
MDI had 4 stolen bases while the Crusaders stole 5 bases.
MDI is now 2-0 on the season. . The Trojans will play a doubleheader at home against the Presque Isle Wildcats on Saturday, April 29th.
John Bapst is now 2-1. They play at Ellsworth on Monday, May 1st at 4:30 p.m.
You can nominate a Maine High School Athlete for their accomplishments during the week April 24-29 HERE by Sunday, April 30th. We will then put together the list, on Monday, and then you'll then be able to vote on the nominees May 1st - 4th (11:59 p.m.) with the Spring Week 2 Winner being announced on Friday, May 5th. You can vote as often as you wish.
Please let us know in the email why you are nominating someone. Try to be specific with hits, strikeouts, how many goals,  how fast they ran, how high they jumped, etc
Check out the photos of the game
MDI - John Bapst Baseball
The MDI Trojans played host to the John Bapst Crusaders in Bar Harbor on Friday, April 28th
More From WDEA Ellsworth Maine