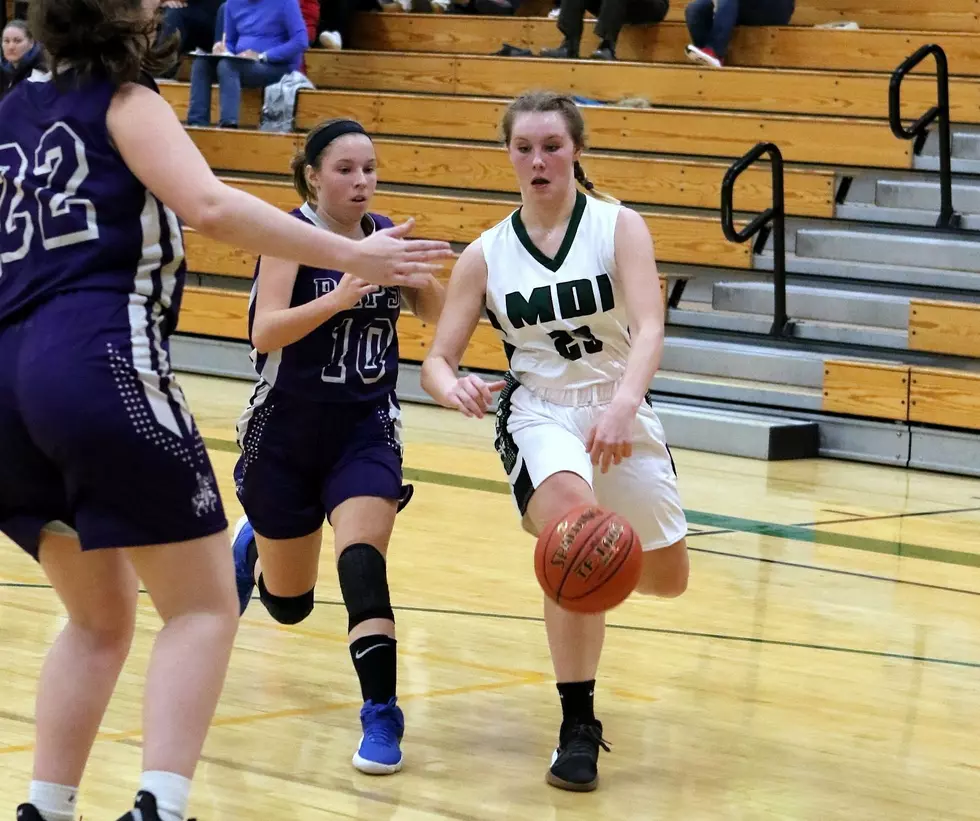 MDI Girls Hang on to Beat John Bapst 40-36 [PHOTOS]
MDI-John Bapst Girls December 10, 2019 Photo Walter Churchill
The MDI Girls Basketball Team had a 12 point lead at the Half, 22-10, but John Bapst outscored the Trojans 17-7 in the 3rd Quarter. MDI clung to a 2 point lead 29-27 but the Trojans hung on to beat John Bapst 40-36 in their home opener, at Bernard Parady Gymnasium in Bar Harbor, on Tuesday, December 10th.
The Trojans were paced by Leah Carroll with a game high 19 points, while Rachelle Swanson had 7 points. Caroll had 3 3-pointers while Swanson and Olivia Gray each had 1. The Trojans were 3-13 from the free throw line.
John Bapst was led by Lacey Scanlon with 9 points while Sydney Ellis had 8 points. Jayda Smith and Savannah Libby each had a 3-pointer. The Crusaders were 6-14 from the free throw line.
John Bapst, 0-1 will play at Belfast on Saturday, December 14th at 12 Noon
Thanks to Walter Churchill for the photos.
| | | | | | |
| --- | --- | --- | --- | --- | --- |
| | 1 | 2 | 3 | 4 | T |
| John Bapst  Girls | 7 | 3 | 17 | 9 | 36 |
| MDI Girls | 13 | 9 | 7 | 11 | 40 |
| | | | | | | | | | |
| --- | --- | --- | --- | --- | --- | --- | --- | --- | --- |
| # | Name | G | PTS | FGM | 2PM | 3PM | FTM | FTA | PF |
| 4 | Kate Harriman | 1 | 1 | 0 | 0 | 0 | 1 | 2 | 2 |
| 5 | Savannah Libby | 1 | 3 | 1 | 0 | 1 | 0 | 0 | 0 |
| 10 | Jamey Satterfield | 1 | 6 | 3 | 3 | 0 | 0 | 2 | 4 |
| 14 | Jamie McQuarrie | 1 | 1 | 0 | 0 | 0 | 1 | 2 | 2 |
| 22 | Sydney Ellis | 1 | 8 | 4 | 4 | 0 | 0 | 2 | 0 |
| 24 | Jayda Smith | 1 | 7 | 2 | 1 | 1 | 2 | 2 | 1 |
| 33 | Emily Mock | 1 | 0 | 0 | 0 | 0 | 0 | 0 | 2 |
| 34 | Lacey Scanlon | 1 | 9 | 4 | 4 | 0 | 1 | 2 | 4 |
| 40 | Jenna McQuarrie | 1 | 1 | 0 | 0 | 0 | 1 | 2 | 0 |
| | TOTALS | 1 | 36 | 14 | 12 | 2 | 6 | 14 | 15 |
| | | | | | | | | | |
| --- | --- | --- | --- | --- | --- | --- | --- | --- | --- |
| # | Name | G | PTS | FGM | 2PM | 3PM | FTM | FTA | PF |
| 3 | Molly  Ritter | 1 | 0 | 0 | 0 | 0 | 0 | 0 | 0 |
| 11 | Elena Alderman | 1 | 0 | 0 | 0 | 0 | 0 | 3 | 0 |
| 13 | Emily Carter | 1 | 0 | 0 | 0 | 0 | 0 | 2 | 4 |
| 15 | Grace Witham | 1 | 0 | 0 | 0 | 0 | 0 | 0 | 0 |
| 21 | Lexi Rich | 1 | 0 | 0 | 0 | 0 | 0 | 0 | 2 |
| 23 | Leah Carroll | 1 | 18 | 7 | 4 | 3 | 1 | 2 | 3 |
| 25 | Abbie Farley | 1 | 0 | 0 | 0 | 0 | 0 | 0 | 0 |
| 31 | Olivia Gray | 1 | 9 | 4 | 3 | 1 | 0 | 2 | 1 |
| 33 | Rachelle Swanson | 1 | 7 | 2 | 1 | 1 | 2 | 2 | 0 |
| 35 | Olivia Joyce | 1 | 0 | 0 | 0 | 0 | 0 | 0 | 0 |
| 43 | Elizabeth Jones | 1 | 6 | 3 | 3 | 0 | 0 | 2 | 2 |
| 45 | Hannah Joy | 1 | 0 | 0 | 0 | 0 | 0 | 0 | 0 |
| | TOTALS | 1 | 40 | 16 | 11 | 5 | 3 | 13 | 12 |
More From WDEA Ellsworth Maine