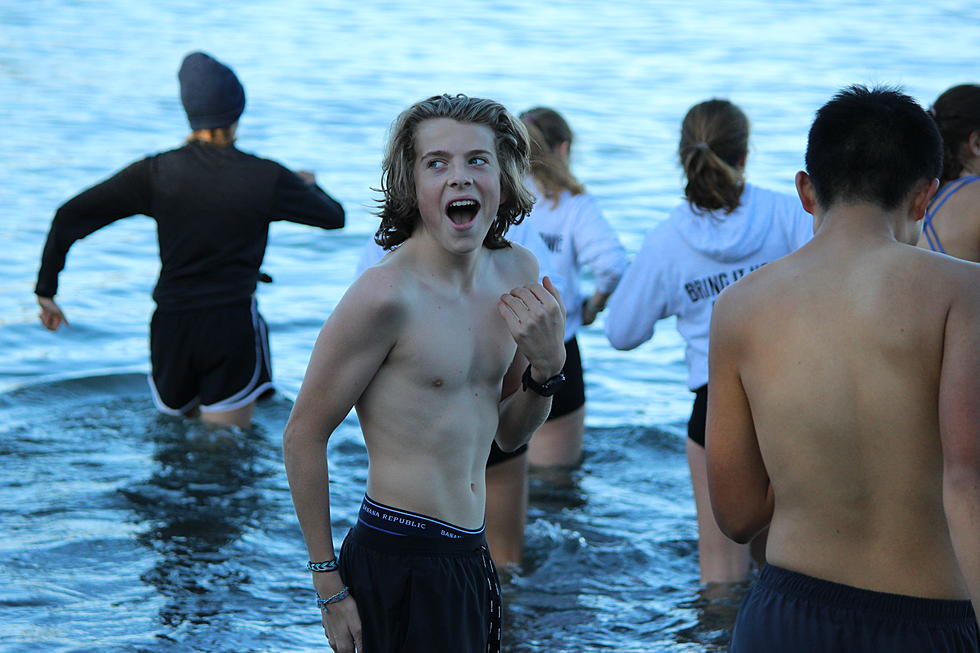 MDI Cross Country Teams "Take a Dip" to Get Ready for States [PHOTOS]
October 29, 2021 Photo Chris Popper
Winning teams have some strange superstitions and things they do before the game. When the MDI Girls Basketball Team was on their way to the State Finals 4 years ago, they sat on the same seats on the bus, same seats in the Cross Arena, braided hair in the same order. I had to make sure I wore the same clothes in each game. All pretty tame, compared to what the MDI Cross Country Team does before the State Championship
Friday afternoon saw the Boy's and Girls Team's having a light run in Bar Harbor, followed by 14 minutes in the Atlantic Ocean, up to their waists. Now a few of them went further, going completely under!
There was no screaming... There was singing! There wasn't a lot of "How much more time do we have?" Nope these kids were matter-of-fact. When the 14 minutes was up, they didn't run out of the water! Nope, they're saving the running for the State Class B Championship at Belfast. The Girls run at 1:40, the Boys run at 2:20.
The whole purpose of this annual tradition is to get all the lactic acid out of their legs, so they can run as fast as possible!
And you can't really argue with the success. The MDI Girls Team has won the Class B State titles in 1976, 1980, 1981, 1982, 1984, 2006, 2011, 2012 and 2013. The MDI Boys Team has won Class B State titles in 1972, 1973 and 1986
Both the water and air temperatures were 56 degrees!
Good luck tomorrow! Run fast! I hope your legs have thawed by race time!
MDI Cross Country Takes a Dip
Continuing their tradition of "Taking a Dip" before the State Cross Country Meet the MDI Cross Country runners went into the ocean by the Bar Harbor Boat Landing on October 29th.
More From WDEA Ellsworth Maine