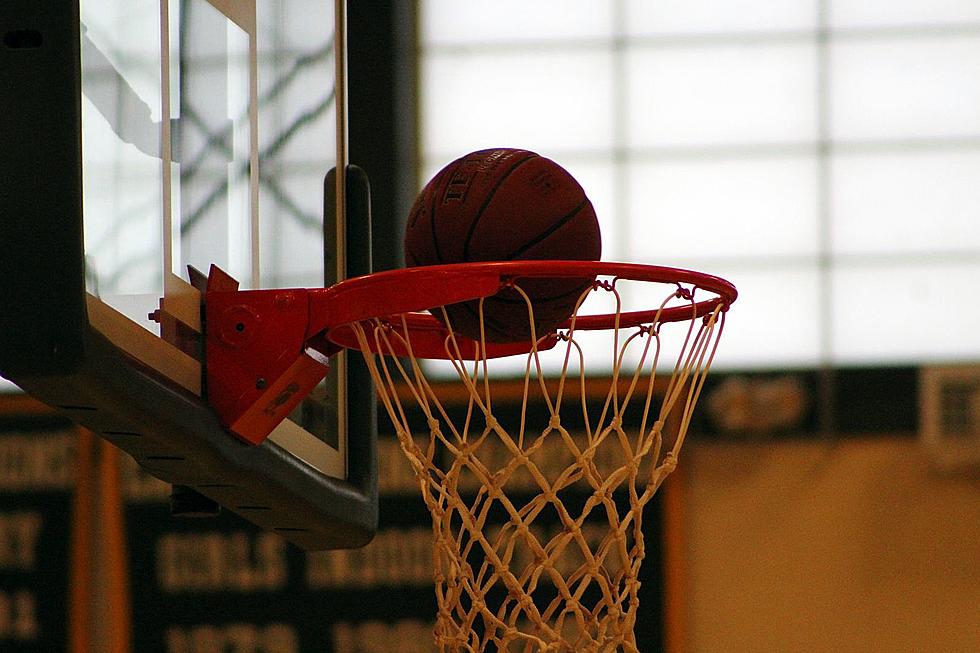 MDI Boys Fall to Camden Hills in Pre-Season Game 63-55 on Saturday
Photo Chris Popper
The MDI Boys Basketball Team fell to the Camden Hills Windjammers 63-55 on Saturday afternoon at Bernard Parady Gymnasium in Bar Harbor.
MDI led 14-11 at the end of the 1st Quarter, but Camden Hills outscored MDI 14-6 in the 2nd Quarter to take a 25-20 lead at the end of the 1st Half. Camden Hills raced out to outscore MDI 22-11 in the 3rd Quarter and led 47-31. MDI outscored Camden Hills 24-16 in the 4th Quarter but the deficit was too big for the Trojans to come back from.
MDI was led by Kadin Reed with 15 points while Alex Gray finished with 10 points. The Trojans were 7-10 from the free throw line. MDI scored 4 3-pointers on the afternoon. Reed had 2 3's and Spencer Laurendeau and Charlie Parker each drained a 3-pointer.
Camden Hills had 4 players in double figures. Quincy Meiser had a team high 13 points. Westen DeWaard and Ryan Clifford each finished with 11 points while Aidan O'Connell had 10 points. The Windjammers were 10-20 from the free throw line and sank 5 3-pointers. Meiser had 3 3's, with Ryan Clifford and Aidan O'Connell each hitting a 3-pointer.
MDI is back in action on Wednesday, December 7th when they travel to Belfast to play the Lions at 6:30 p.m. They open the season on Saturday December 11th at Hermon where they will play John Bapst at 4 p.m.
Line Score
| | | | | | |
| --- | --- | --- | --- | --- | --- |
| | 1 | 2 | 3 | 4 | T |
| Camden Hills | 11 | 14 | 22 | 16 | 63 |
| MDI Boys 2021-22 | 14 | 6 | 11 | 24 | 55 |
Box Score
Camden Hills
| | | | | | | | | | |
| --- | --- | --- | --- | --- | --- | --- | --- | --- | --- |
| # | Name | G | PTS | FGM | 2PM | 3PM | FTM | FTA | PF |
| 10 | Liam O'Neil | 1 | 2 | 1 | 1 | 0 | 0 | 0 | 1 |
| 11 | William Duke | 1 | 0 | 0 | 0 | 0 | 0 | 0 | 0 |
| 12 | Westen DeWaard | 1 | 11 | 5 | 5 | 0 | 1 | 4 | 2 |
| 14 | Quincy Meiser | 1 | 13 | 4 | 1 | 3 | 2 | 4 | 0 |
| 20 | Hunter Bell | 1 | 4 | 2 | 2 | 0 | 0 | 0 | 0 |
| 22 | Eben Fagonde | 1 | 4 | 2 | 2 | 0 | 0 | 0 | 0 |
| 24 | Hunter Norton | 1 | 4 | 2 | 2 | 0 | 0 | 2 | 3 |
| 30 | Ryan Clifford | 1 | 11 | 3 | 2 | 1 | 4 | 6 | 0 |
| 34 | Aidan O'Connell | 1 | 10 | 3 | 2 | 1 | 3 | 3 | 0 |
| 40 | Owen Berez | 1 | 0 | 0 | 0 | 0 | 0 | 0 | 0 |
| 44 | Dyan Morgenstern | 1 | 2 | 1 | 1 | 0 | 0 | 0 | 2 |
| 50 | Will Smith | 1 | 2 | 1 | 1 | 0 | 0 | 0 | 0 |
| 53 | Owen Reynolds | 1 | 0 | 0 | 0 | 0 | 0 | 1 | 0 |
| | TOTALS | 1 | 63 | 24 | 19 | 5 | 10 | 20 | 8 |
MDI
| | | | | | | | | | |
| --- | --- | --- | --- | --- | --- | --- | --- | --- | --- |
| # | Name | G | PTS | FGM | 2PM | 3PM | FTM | FTA | PF |
| 10 | Spencer Laurendau | 1 | 9 | 4 | 3 | 1 | 0 | 0 | 3 |
| 12 | Joey Minutolo | 1 | 0 | 0 | 0 | 0 | 0 | 0 | 0 |
| 14 | Harley Henderson | 1 | 0 | 0 | 0 | 0 | 0 | 0 | 0 |
| 20 | AJ Lozano | 1 | 8 | 3 | 3 | 0 | 2 | 2 | 2 |
| 22 | Ben Lipski | 1 | 0 | 0 | 0 | 0 | 0 | 0 | 0 |
| 24 | Charlie Parker | 1 | 7 | 2 | 1 | 1 | 2 | 2 | 3 |
| 30 | Jack Hodgdon | 1 | 0 | 0 | 0 | 0 | 0 | 0 | 1 |
| 32 | Kadin Reed | 1 | 15 | 6 | 4 | 2 | 1 | 4 | 0 |
| 34 | John Bennett | 1 | 0 | 0 | 0 | 0 | 0 | 0 | 2 |
| 40 | Ethan Sosa | 1 | 0 | 0 | 0 | 0 | 0 | 0 | 0 |
| 42 | Evan Ankrom | 1 | 6 | 3 | 3 | 0 | 0 | 0 | 1 |
| 44 | Alex Gray | 1 | 10 | 4 | 4 | 0 | 2 | 2 | 0 |
| | TOTALS | 1 | 55 | 22 | 18 | 4 | 7 | 10 | 12 |
More From WDEA Ellsworth Maine