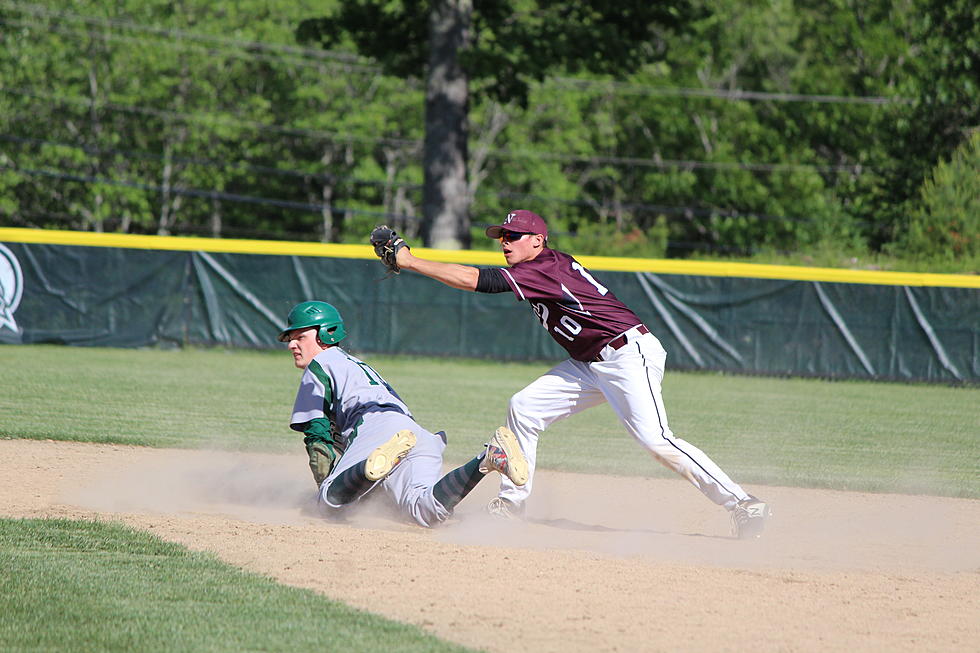 MDI Baseball Advances to Semifinals with 7-6 11 Inning Win over Nokomis Warriors [PHOTOS]
MDI-Nokomis Class B Northern Maine Quarterfinals June 10, 2021 Photo Chris Popper
The MDI Trojans Baseball Teams advanced to the semifinals with a 7-6 victory over the Nokomis Warriors, in 11 innings, in Bar Harbor on Thursday, June 10th. They'll play the top seeded Old Town Coyotes in Old Town on Saturday, June 12th at 11 a.m.
MDI-Nokomis Class B Northern Maine Quarterfinals June 10, 2021
MDI led 4-0 going into the top of the 4th inning when Nokomis plated 3 runs. The Warriors then scored 1 run in the top of the 7th inning to send the game into extra innings.
In the 10th inning, Nokomis scored twice to take a 6-4 run, but MDI battled back with two outs with back to back doubles by Brady Renault and Stevie Gilbert to tie the score at 6-6.
In the 11th inning Nokomis was threatening. O.Upton singled to left field. C.Chretien singled to left field with Upton advancing to 3rd base. J.Neumayer then grounded to Porter Isaacs who threw home and Stevie Gilbert tagged Upton out at the plate. Neumayer was at 1st and Chretien at 3rd base with 2 outs. But, Jay Haney who had come on in relief in the 8th inning picked Neumayer off at 1st to strand Chretien at 3rd.
In the bottom of the 11th inning with 1 out Quentin Pileggi singled. Logan Beckwith then put a bunt down and reached on an error, with Pileggi scoring, to send MDI on to the semifinals.
For MDI Quentin Pileggi started and went 7.0 innings, allowing 4 runs, 3 earned on 7 hits. He struck out 8 and walked 1. Jay Haney who picked up the win, went 4 innings, allowing 2 runs, on 4 hits. He struck out 3 and walked 2.
For Nokomis C.Marquis went 10 innings. He allowed 10 hits, and 6 runs, 4 earned. He struck out 3 and walked 1. M.Hopkins took the loss.
Quentin Pileggi was 4-6 for MDI with a double. Porter Isaacs had 3 singles. Stevie Gilbert and Brady Renault each had a double. Logan Beckwith had a triple and Grady Wellman-Webster had a single.
C.Chretien had 3 singles for Nokomis. M.Scharf had a double and single. C.Marquis had 2 singles. J.Hawthorne had a double. O.Upton, G.Hartsgrove and M.Hopkins all singled for the Warriors.
More From WDEA Ellsworth Maine