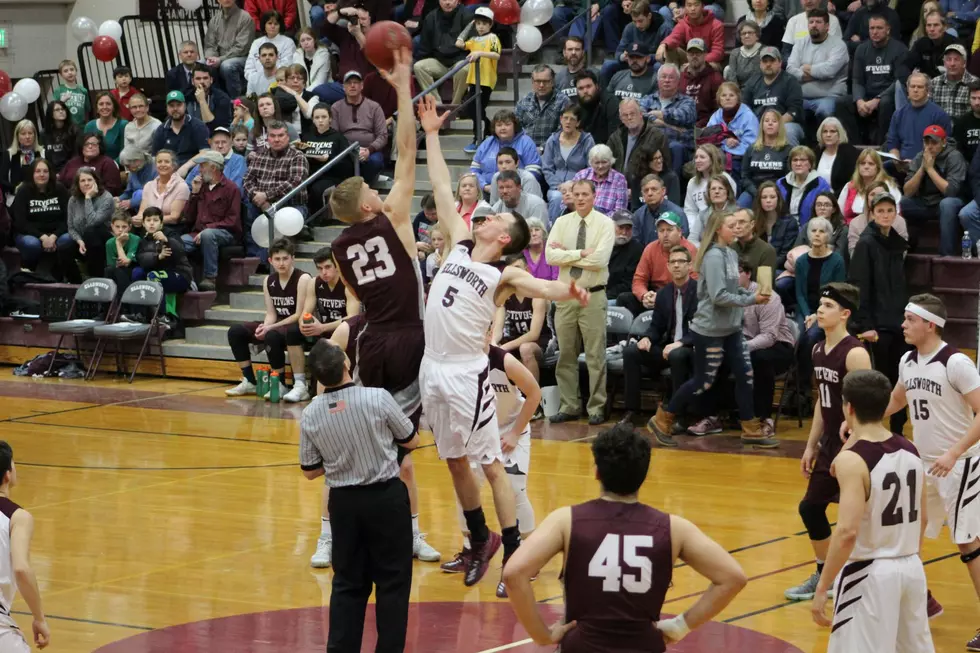 In the Battle of Eagles GSA Beats EHS 70-54 [Box Score/Recap]
Photo Chris Popper
The George Stevens Academy Eagles defeated the Ellsworth Eagles on Friday, February 2nd on Senior Recognition Night at Katsiaficas Gymnasium in Ellsworth 70-54.
GSA jumped out to a 18-12 lead at the end of the 1st Quarter. Taylor Schildroth scored 12 points with 3 3-pointers. Caden Mattson had 2 points, Max Mattson had 2 point and Percy Zentz had 2 points for GSA.  For Ellsworth Bradly Smith and Andrew McCullough each had a 3-pointer and Dylan Taplin, Zach Harris and Sam Giffin each had 2 points.
GSA increased their lead to 14 points at the end of the 1st Half, 31-17. In the 2nd Quarter Schildroth had 6 points including a 3-pointer. Max Mattson had 5 points and Zents added 2 more for GSA. For Ellsworth Jackson Curtis had a 3-pointer and Jared Hamilton had 2 points.
In the 3rd Quarter Ellsworth outscored GSA 22-16 to cut GSA's lead to 8 points 47-39. Jared Hamilotn and Dylan Taplin each had 6 points for Ellsworth, Sam Giffin had a 3-pointer, Zach Harris had 3 points and Jackson Curtis and Devin Grindle each had 2 points for Ellsworth. For GSA Percy Zentz had 10 points including a 3-pointre, Caden Mattson had 3 points, Stean Simmons 2 points and Max Mattson 1 point before he picked up a technical foul with 1:27 remaining in the 3rd Quarter.
In the 4 Quarter, Schildroth scored 11 points, going a perfect 5-5 from the free throw line. Caden Mattson ahd 6 points, Max Mattson 4 points and Eric Mote 2 points. For Ellsworth Bradly Smith drained 2 3-pointers, Dylan Taplin had 4 points and Austin Harris had 2 points.
GSA had 4 players in double figures. Taylor Schildroth finished with a game high 29 points. Percy Zentz had 14 points, Max Mattson 12 points and Caden Mattson 11 points. GSA was 13-18 from the free throw line.
Ellsworth was led by Dylan Taplin with 12 points and Bradly Smith had 9 points. Ellsworth was 6-10 from the free throw line.
It was the last regular season home game for Andrew McCullough, Jared Hamilton, Dylan Taplin, Bradly Smith and Zach Harris.
GSA now 15-1 plays host to Mattanawcook Academy on Tuesday, February 6th at 7PM
| | | | | | |
| --- | --- | --- | --- | --- | --- |
| | 1 | 2 | 3 | 4 | T |
| George Stevens Academy Boys | 15 | 16 | 16 | 23 | 70 |
| Ellsworth Boys | 12 | 5 | 22 | 15 | 54 |
| | | | | | | | | | |
| --- | --- | --- | --- | --- | --- | --- | --- | --- | --- |
| # | Name | G | FGM | 2PM | 3PM | FTM | FTA | PF | PTS |
| 3 | Ben Cole | 1 | 0 | 0 | 0 | 0 | 0 | 0 | 0 |
| 5 | Austin Snow | 1 | 0 | 0 | 0 | 0 | 0 | 0 | 0 |
| 11 | Caden Mattson | 1 | 4 | 4 | 0 | 3 | 4 | 1 | 11 |
| 12 | Eric Mote | 1 | 1 | 1 | 0 | 0 | 0 | 0 | 2 |
| 13 | Isaac Wardwell | 1 | 0 | 0 | 0 | 0 | 0 | 2 | 0 |
| 15 | Taylor Schildroth | 1 | 9 | 5 | 4 | 7 | 7 | 1 | 29 |
| 20 | Tanner Ashley | 1 | 0 | 0 | 0 | 0 | 0 | 0 | 0 |
| 21 | Andrew Swez | 1 | 0 | 0 | 0 | 0 | 0 | 0 | 0 |
| 23 | Max Mattson | 1 | 5 | 5 | 0 | 2 | 3 | 3 | 12 |
| 31 | Reece Dannenberg | 1 | 0 | 0 | 0 | 0 | 0 | 0 | 0 |
| 33 | Percy Zentz | 1 | 6 | 5 | 1 | 1 | 2 | 2 | 14 |
| 45 | Stefan Simmons | 1 | 1 | 1 | 0 | 0 | 2 | 1 | 2 |
| | TOTALS | 1 | 26 | 21 | 5 | 13 | 18 | 10 | 70 |
| | | | | | | | | | |
| --- | --- | --- | --- | --- | --- | --- | --- | --- | --- |
| # | Name | G | FGM | 2PM | 3PM | FTM | FTA | PF | PTS |
| 3 | Devin Grindle | 1 | 0 | 0 | 0 | 2 | 5 | 2 | 2 |
| 4 | Bradly Smith | 1 | 3 | 0 | 3 | 0 | 0 | 2 | 9 |
| 5 | Dylan Taplin | 1 | 6 | 6 | 0 | 0 | 0 | 4 | 12 |
| 10 | Zach Harris | 1 | 3 | 2 | 1 | 1 | 2 | 2 | 8 |
| 11 | Austin Harris | 1 | 1 | 1 | 0 | 0 | 0 | 0 | 2 |
| 12 | Sam Giffin | 1 | 2 | 1 | 1 | 0 | 0 | 1 | 5 |
| 15 | Andrew McCullough | 1 | 1 | 0 | 1 | 0 | 0 | 0 | 3 |
| 20 | Darby Barry | 1 | 0 | 0 | 0 | 0 | 0 | 0 | 0 |
| 21 | Jared Hamilton | 1 | 3 | 3 | 0 | 2 | 3 | 2 | 8 |
| 22 | Javon Williams | 1 | 0 | 0 | 0 | 0 | 0 | 1 | 0 |
| 23 | Connor Crawford | 1 | 0 | 0 | 0 | 0 | 0 | 2 | 0 |
| 32 | Jackson Curtis | 1 | 2 | 1 | 1 | 0 | 0 | 0 | 5 |
| 33 | Norman Jodrey | 1 | 0 | 0 | 0 | 0 | 0 | 0 | 0 |
| | TOTALS | 1 | 21 | 14 | 7 | 5 | 10 | 16 | 54 |
More From WDEA Ellsworth Maine