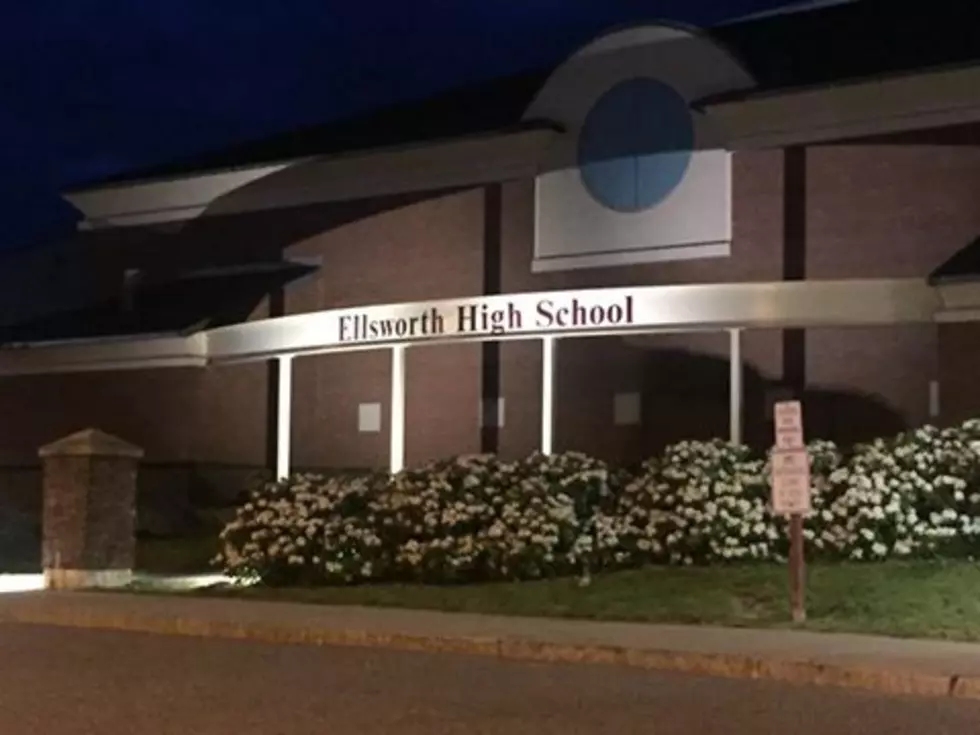 Ellsworth High School 2nd Quarter Honor Roll
Photo Ellsworth High School
WDEA does a great job of recognizing athletic excellence in the schools. That's why when we can recognize academic excellence we need to do so! We are pleased to shared Ellsworth High School's Honor Roll recipients for the 2nd Quarter of the 2019-20 school year! Congratulations to all those achieving great marks in the classroom.
Here are the 9th-12th graders achieving Honors, High Honors and Highest Honors
Ian Brenner-Simpson, Aurora Burmeister, Connor Crawford, Genevieve Cutshall, Danaee Felix, Makayla Fishburn, Colby Hammilton, Amelia Hayden, Samuel Holler, Evelyn Howie, Alicia Kelley, Alec Leathers, Caitlin MacPherson, Seneca Maddocks-Wilbur, Trinity Montigny, Kristen Moseley, Madelyn Nida, Kylara Phelps, Taylor Richardson, Allison Robbins, Eden Salzig, Emma Whitney, Mitchell Wilson.
Brianna Abbott, Mackenzie Arey, Darby Barry, Anna Brown, Brooke Carver, Makayla Chase, Jackson Curtis, Robert Eliasen, Dylan Freeman, Eliot Gagnon-Victor, Logan Grass, Ethan Gross, Tanner Hardison, Marissa Havey, Emily Jack, J'Von James, Michael Kazmierczak, Amber Kennedy, Stephanie Newell, Bailey Peterson, Deyan Rich.
Gabriel Abeyasekera, Marissa Atwater, Rachel Barnes, Ethan Boynton, Jordyn Bray, Shannon Bryant, Javen Clarke, Tyler Corro, Caleb Fifield, Kolby Fish, Katerina Formby, Kolbe Hardy, Tucker Harrington, Jenna Harris, Adam Inman, Beaudie Jipson, Lucas Jordan, Itsuki Langley, Noah Scholes, Makayla Seavey, Jayden Strickland, Connor Taylor, Travis Thompson, Stephanie Trowbridge, Ryan White, Breanna Wilbur, Roger Williams.
Sierra Andrews, Bryce Carter, Iraida Concepcion, Vincent Cotroneo, Kayla Duhaime, Lillian Frank, Lilja Hanson, Ariel Larrabee, Pedro Little-Siebold, Pascal Poirier, Hannah Richardson, Kylie Robidoux, Madison Sanchez, Blake Wallace.
Benton Bird, Bailey Bishoff, Wyatt Braun, Jordan Buteau, Allison Dorr, Elise Dow, Hunter Flood,  Megan Gammill, Sean Hill, Reece Jagels, Chase Johnson, Stacia Johnson, Jacey Morse, Ben Osterlin, Autumn Paul, Kiara Roberts, Garrett Rodgers, Hailey Rudy, Sara Shea, Kerrigan Shorey, Alexandra Smith, Winter Smith, Abigail Worcester.
Kerrigan Andrews, Lauren Billings, Jocelyn Boudreau, Chandler Bridges, Samantha Carter, Nicholas Cormier, Tyler Davis, Beck Deeny, Warren Dowling, Michael Farley, Mark Fuller, Sydney Garrity, Kayla Hardison, Breana-Lee Hesseltine, Samantha Higgins, Ella Hubbard, Hanna Hughes, Elaine Hutchins,  Brandon Jackson, Richard Johnson, Abigail Mazgaj, Calvin Nelson, Zay Oo, Jacob Pung, Alexis Rossi, Nathan Smith, Benjamin Snow, Brooke Spaulding, Tulas Weaver.
Kristy Barry, Brett Bragdon, Naomi Burmeister, Jesse Campbell, Tate Carter, Leanne Casin, Hunter Curtis, Alexandria Doty, Darren Easler, Dallas Flood, Gage Hardy, Alicia Havey, Ellie Kane, Colby Lacasse, Amie Lupo, Keegan Omlor, Briann Ormsby, Nicholas Partridge, Carole Reyes, Olivia Ringuette, Sophia Rumsey, Kolten Sargent, Elena Springer, Vivianne Walczak, Sunny Wight.
Joshua Campbell, Bailey Clarke, Relic Concepcion, Jasmine Cough, Taylor Dube, Lucas Fendl, Kate Friedell, Grace Gumpp, Madeline Henry, Alexis Higgins, Annabella Johnson, Jocelyn Jordan, Jada Kairys, Eve Leeman, Michael Palmer, Amber-Rae Pesek, Eli Pouwels, Paige Sawyer, Kyra Sinclair, Ashley Spaulding, Liam Stephenson, Ryan Ulichny.
Gianna Anderson, Abigail Barnes, Autumn Blair, Abigail Bland, Abby Counter, Alex DeWitt, Robert Dipretoro, Nolan Domagala, Abigail Erwin, Madison Gilley, Camille Gray, Hayden Hardison, Tyler Hellum, Daniel Howie, Laura Jude, John Keeney, Maddison Kelley, Shaun Levasseur, Aaron Lynch, Luna Montina, Margarita Nadeau, Ashlee Novak, Gage Rotta-Butler, Tate Schaffner-Whary, Ethan Sprague, Cameron Ward, Andrew Young.
Roman Barrett, Soloman Barrett, Austin Chase, Astrid Croll, Morgan Duhaime, Elizabeth Ford, Emily Gagnon, William Garland, Rylee Goller, Briana Kane, Kahlan Keene, Natacia Lankist,Mercedeez Leeman, Eamon MacDonald, Leah MacPherson, Destiny Ray, William Robbins, Mercedes Ulichny, Hannah Wagstaff, Abigail Young.
John Allen, Ellie Anderson, Jordan Berry, Maren Bishoff, Casey Carter, Lindsey Cirard, Skyler Clayton, Connor Devine, Everett Fontaine, Kristopher Foskett, Savannah Hasham, Sid Hilton, Brady Kenny, Emma Kidder, Travis May, Caroline Mazgaj, Hannah McBreairty-Frye, Liliana Muise, Madisyn Page, Drew Pierson, Mariah Rossi, Tanner Seura, Mayson Smith, Aliyah Washburn, Logan Williams.
Alex Bivins, Jasmine Blaszak, Garrett Brown, Morgan Clifford, Drew Cote, Elura Dorr, Elizabeth Frost, Alyssa Gilley, Annabelle Hackett, Miricle Hill, Thomas Hilton, Wesley Keim, Ethan Leclerc, Brad Levesque, Taylor Mason, Owen McDonald, Silas Montigny, Addison Nelson, Raymond Perry, Isaac Rowell, Robert Springer, Samuel Wagenknecht, Kameron Waroway.
Enter your number to get our free mobile app