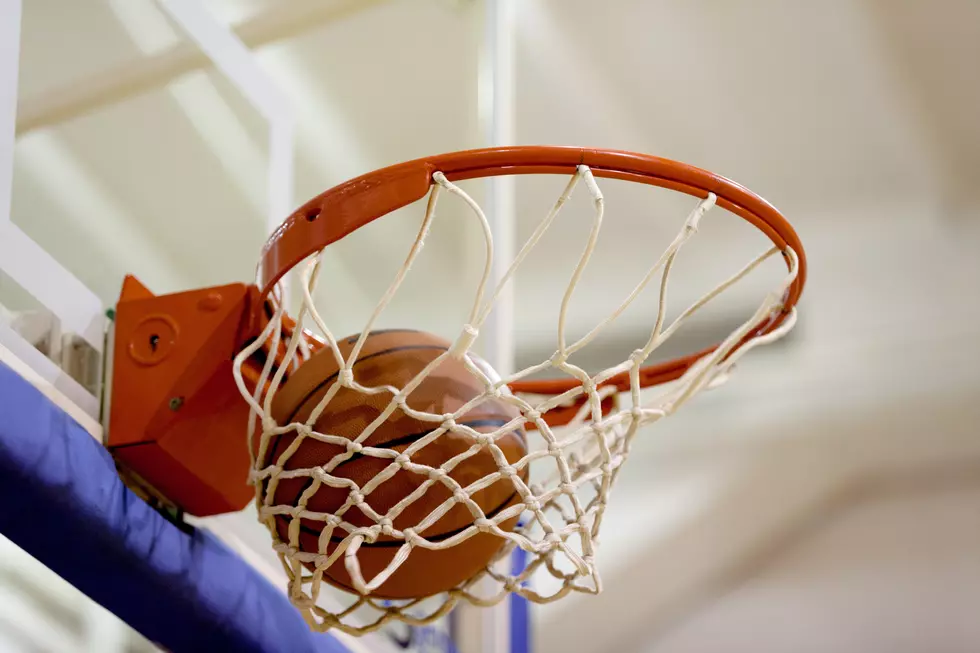 Ellsworth Boys Beat Old Town 60-58 in a Squeaker [STATS]
Getty Images/iStockphoto
The Ellsworth Boys Basketball Team led at the end of the 1st Half 31-18 at Mackenzie Gymnasium in Old Town on Tuesday, December 27th. But the Coyotes outscored the Eagles 21-13 in the 3rd Quarter to cut Ellsworth's lead to 44-39. The Coyotes had the lead late in the 4th Quarter but Ellsworth hung on and beat the Coyotes 60-58 in a battle of unbeatens.
Ellsworth was led by Chance Mercier who had 27 points, despite being scoreless in the 1st Quarter. Eamon MacDonald had 8 points and Miles Palmer finished with 7 points. The Eagles were 12-18 from the free throw line and had 6 3-pointers. Mercier and MacDonald each had 2 3-pointers and Miles Palmer and Josiah James-Chin each had a 3-pointer.
Old Town had 10 3-pointers, including 5 3's in the 3rd Quarter. Grayson Thibeault was the Coyote's leading scorer with 23 points including 5 3-pointers. Braydon Brown had 14 points with 2 3-pointers. Gabe Gifford had 11 points with 3 3-pointers. The Coyotes were 2-6 from the free throw line.
Ellsworth is now 5-0. The Eagles will play Orono at Katsiaficas Gymnasium on Thursday, December 29th at 6:30 p.m. and then play Caribou at home on Friday, December 30th at 2:30 p.m. Both of those games will be broadcast on AM 1370 WDEA, on WDEA Internet Radio, on our free downloadable APP and on any Alexa enabled device.
Old Town now 3-1 plays at MCI on Thursday, December 29th at 6:30 p.m.
Thanks to Amy Pooler for the stats!
You can vote for the Week 3 High School Athlete of the Week through Thursday night, December 29th at 11:59 as many times as you wish HERE
You can nominate someone for the Winter Week 4 High School Athlete of the Week by emailing HERE. Please put High School Athlete of the Week in the subject. Nominations for games December 26th to December 31st need to be received by January 2nd. Then tell us why your nominee is deserving! Let us know specifics! How many goals did she/he score? How many points did she/he score? How fast did they run or throw in the indoor track meet? How fast did they swim in the swim meet? How did they do in the wrestling meet? We also want to know what school they go to! Please send them by Monday night!
Tuesday we will then compile the nominees and it will be your turn to choose the winner! You can then cast your votes, and voting will close Thursday night at 11:59 p.m. We will then announce the winner online and on air on Friday each week!
We are also looking for reports of High School Basketball,  Hockey, Swimming, Indoor Track and Field, and Wrestling results. If you can email them HERE we will write recaps nightly. We need the score, who scored the goal, and any highlights. You can even text the photo of the scoresheets to 207-469-8660
Line Score 
| | | | | | |
| --- | --- | --- | --- | --- | --- |
| | 1 | 2 | 3 | 4 | T |
| EHS Boys | 12 | 19 | 13 | 16 | 60 |
| Old Town  Boys | 7 | 11 | 21 | 19 | 58 |
Ellsworth
| | | | | | |
| --- | --- | --- | --- | --- | --- |
| Name | PTS | 2PM | 3PM | FTM | FTA |
| Chance Mercier | 27 | 7 | 2 | 7 | 9 |
| Miles Palmer | 7 | 1 | 1 | 2 | 3 |
| Michael Harris | 2 | 1 | - | - | - |
| Cruz Coffin | 0 | - | - | - | - |
| Kaleb Connors | 0 | - | - | - | - |
| Josiah James-Chin | 4 | - | 1 | 1 | 2 |
| Wyatt Bragdon | 0 | - | - | - | - |
| Eamon MacDonald | 9 | 1 | 2 | 1 | 2 |
| Peter Keblinsky | 6 | 3 | - | - | - |
| Kyle Kenney | 0 | - | - | - | - |
| Ethan LeClerc | 0 | - | - | - | - |
| Dawson Curtis | 3 | 1 | - | 1 | 2 |
| Brayden King | 2 | 1 | - | - | - |
| Isiah Corson | 0 | - | - | - | - |
| TEAM | 0 | - | - | - | - |
| TOTALS | 60 | 15 | 6 | 12 | 18 |
Old Town
| | | | | | |
| --- | --- | --- | --- | --- | --- |
| Name | PTS | 2PM | 3PM | FTM | FTA |
| Braydon Brown | 14 | 3 | 2 | 2 | 2 |
| Renato Fernandes | 0 | - | - | - | - |
| Carson Ellis | 4 | 2 | - | - | 2 |
| Josh Harvey | 0 | - | - | - | - |
| Grayson Thibeault | 23 | 4 | 5 | - | - |
| Aiden Gromm | 0 | - | - | - | - |
| Gabe Gifford | 11 | 1 | 3 | - | - |
| Emmitt Byther | 6 | 3 | - | - | 2 |
| Logan Brown | 0 | - | - | - | - |
| Matthew Brawn | 0 | - | - | - | - |
| Brendan Mahaney | 0 | - | - | - | - |
| Brady Paradis | 0 | - | - | - | - |
| TEAM | 0 | - | - | - | - |
| TOTALS | 58 | 13 | 10 | 2 | 6 |
More From WDEA Ellsworth Maine