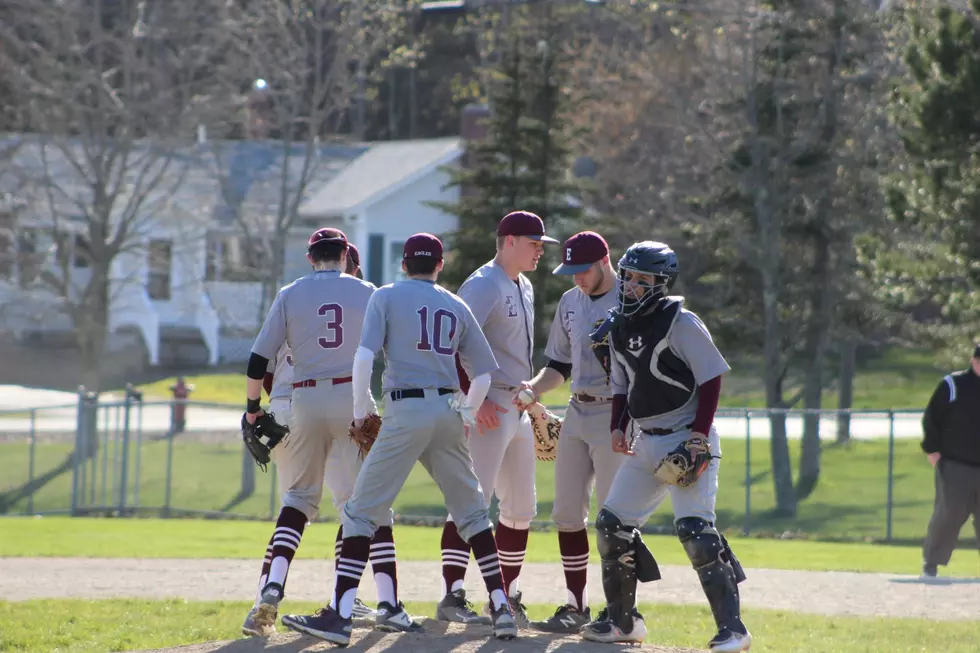 Ellsworth Baseball Downs MDI 8-1
MDI-Ellsworth Baseball May 13, 2019 Photo Chris Popper
The Ellsworth Eagles proved too tough for the MDI Trojans on Monday, May 13th in Ellsworth, as the Eagles defeated the Trojans 8-1.
Conner Wagstaff started the game for Ellsworth, pitching 5 2/3 innings, allowing just 3 hits.striking out 11 and walking 2. Wagstaff picked up the win. Matt Burnett came on in relief, pitching the final 1 1/3, striking out 4 and walking 1.
Porter Isaacs took the loss for the Trojans, going 3.0 innings allowing 5 runs on 5 hits. He struck out 4 and walked 1. Brady Renault pitched the final 3 inings, allowing 2 hits and 3 runs. He walked 6 and struck out 1.
Sam Keblinsky, Logan Beckwith and Nick Corson each singled for MDI
Matt Burnett and Jackson Curtis each had 2 hits for Ellsworth, a double and single. Tyler Mitchell had a double. Devin Grindle and Hunter Curtis each had a single
Ellsworth  remains undefeated, at 9-0 and will host  6-2 Brewer on Thursday, May 16th at 4:30 PM
MDI is 5-5 and weather permitting will play host to Belfast on Tuesday, May 14th at 4:30 PM.