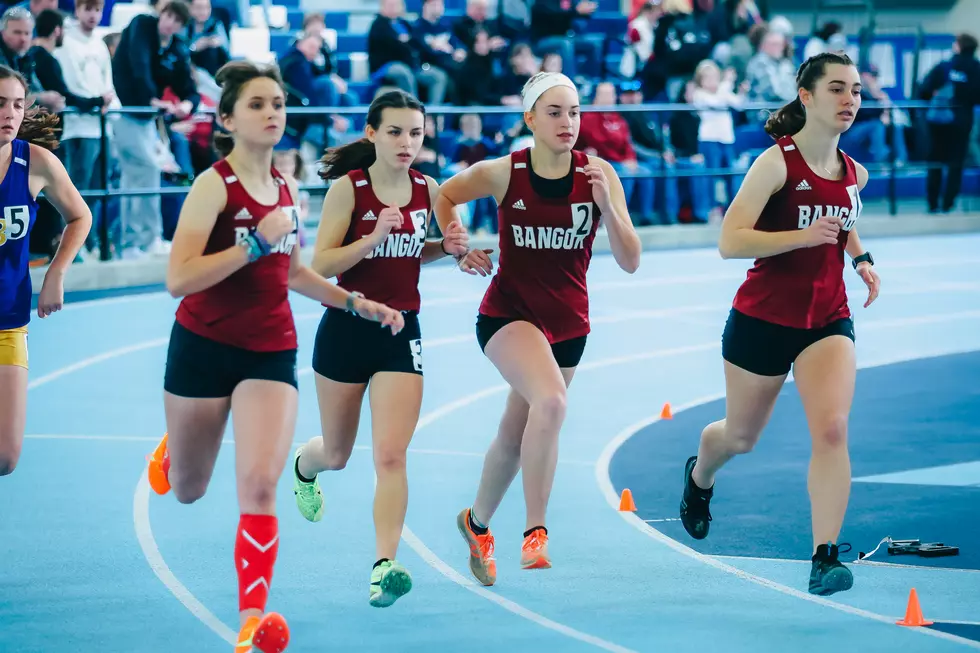 Bangor Girls and Boys Win 1st Eastern Maine Indoor Track Meet
Photo Judi Michalik
The Bangor Girls and Boys Teams won the 1st Eastern Maine Indoor Track League Meet held at the Field House at the University of Maine on Friday, December 30th.  (The previously scheduled meets were canceled because of weather).
Girls Team Results
Bangor - 197
Brewer - 95
Bucksport - 61
GSA - 23
Ellsworth - 18
Central - 5
Boys Team Results
Bangor - 117.50
Brewer - 110
Ellsworth - 61
GSA - 53
Bucksport 40.50
Foxcroft Academy - 18
Central - 12
Blue Hill Harbor School - 1
Results from www.sub5.com
You can nominate someone for the Winter Week 4 High School Athlete of the Week by emailing HERE. Please put High School Athlete of the Week in the subject. Nominations for games December 26th to December 31st need to be received by January 2nd. Then tell us why your nominee is deserving! Let us know specifics! How many goals did she/he score? How many points did she/he score? How fast did they run or throw in the indoor track meet? How fast did they swim in the swim meet? How did they do in the wrestling meet? We also want to know what school they go to! Please send them by Monday night!
Tuesday we will then compile the nominees and it will be your turn to choose the winner! You can then cast your votes, and voting will close Thursday night at 11:59 p.m. We will then announce the winner online and on air on Friday each week!
We are also looking for reports of High School Basketball,  Hockey, Swimming, Indoor Track and Field, and Wrestling results. If you can email them HERE we will write recaps nightly. We need the score, who scored the goal, and any highlights. You can even text the photo of the scoresheets to 207-469-8660.
Girls 55 Meter Dash
===================================================================
Name Year School Prelims H#
===================================================================
Preliminaries
1 Anna Connors 12 Bangor 7.37q 1
2 Madeline Thai 10 Bangor 7.87q 3
3 Callie Tennett 11 Bangor 7.88q 2
4 Evelyn Humbert 12 Bangor 7.90q 4
5 Haley Rose 9 Bucksport 8.07q 6
6 Samantha Erb 12 Bangor 8.17q 5
7 Maddie Cyr 11 Bangor 8.19 1
8 Gloria Hoskins 11 Brewer 8.19 4
9 Madison Rose 9 Bucksport 8.22 6
10 Carly Mchale 10 Bucksport 8.36 2
11 Jordan Doak 12 Brewer 8.46 5
12 Madison Tritt 12 Bangor 8.54 3
13 Anika Noack 12 Bangor 8.55 1
14 Grace Menario 9 Central 8.61 3
15 Makenzie Rodriguez 10 Bucksport 8.64 1
16 Brookelyn Schmersal 9 Bangor 8.81 6
17 Makenzie Rushlow 11 Central 8.88 5
18 Eve Pierson 9 Brewer 8.94 5
19 Makenzie Ramos 10 Brewer 8.97 2
20 Hannah Noyes 11 Bangor 9.01 4
21 Kaliyah Saunders 9 Bangor 9.04 6
22 Logan Williams 12 Ellsworth 9.07 2
23 Abigail Wilson 9 Bucksport 9.22 5
24 Reese Trott 9 Bangor 9.27 2
25 Rowan Osmer 10 Bangor 9.40 4
26 Madalynn Soto 12 Brewer 9.50 3
27 Dalia Rivera 11 Central 9.51 3
28 Kayli Tilden 10 Ellsworth 9.52 1
29 Carmen Bryant 9 Brewer 9.54 4
30 Hannah McBreairty-Frye 12 Ellsworth 9.91 3
31 Grace Bennett 12 Bangor 10.34 4
32 Faith Cosselman 10 Brewer 10.47 1
33 Madylin Coombs 9 Bucksport 10.57 6
34 Natasha Costarelli 11 Bucksport 10.76 5
35 Trinity Allen 9 Bucksport 10.86 6
Girls 55 Meter Dash
================================================================
Name Year School Finals
================================================================
Finals
1 Anna Connors 12 Bangor 7.36
2 Callie Tennett 11 Bangor 7.82
3 Madeline Thai 10 Bangor 7.86
4 Evelyn Humbert 12 Bangor 7.89
5 Haley Rose 9 Bucksport 8.06
6 Samantha Erb 12 Bangor 8.18
Girls 200 Meter Dash
===================================================================
Name Year School Finals H#
===================================================================
1 Anna Connors 12 Bangor 25.37 9
2 Lauren Vanidestine 10 Brewer 28.15 9
3 Callie Tennett 11 Bangor 28.27 8
4 Evelyn Humbert 12 Bangor 28.74 7
5 Maddie Cyr 11 Bangor 29.08 8
6 Haley Rose 9 Bucksport 29.35 8
7 Gloria Hoskins 11 Brewer 29.42 9
8 Alyx Frazell 12 Bucksport 29.69 6
9 Allie Salinas 10 Brewer 30.09 6
10 Jordan Doak 12 Brewer 30.13 7
11 Sophia Chase 9 Bangor 30.75 7
12 Lauren Low 10 Brewer 31.31 6
13 Brookelyn Schmersal 9 Bangor 31.79 4
14 Addison Nelson 12 Ellsworth 32.12 5
15 Ashley Cyr 11 Bucksport 32.19 5
16 Kaliyah Saunders 9 Bangor 32.47 4
17 Reese Trott 9 Bangor 33.13 3
18 Sadie D'Alessio 11 Bangor 33.47 3
19 Logan Williams 12 Ellsworth 33.68 3
20 Rylee Junkins 10 Bangor 33.76 4
21 Makenzie Ramos 10 Brewer 33.86 5
22 Maddison Damon 10 George Stevens 33.99 1
23 Abigail Wilson 9 Bucksport 34.39 2
24 Abby Hardison 10 Ellsworth 34.67 1
25 Kayli Tilden 10 Ellsworth 35.81 2
26 Jadyn Bell 9 Ellsworth 36.26 1
27 Hannah McBreairty-Frye 12 Ellsworth 36.48 2
Girls 400 Meter Dash
================================================================
Name Year School Finals
================================================================
1 Abigail Hunt 12 Bucksport 1:18.29
2 Ashley Cyr 11 Bucksport 1:18.36
3 Jadyn Bell 9 Ellsworth 1:20.34
-- Abby Hardison 10 Ellsworth DQ cut in before break
Girls 800 Meter Run
================================================================
Name Year School Finals
================================================================
1 Katie McCarthy 11 Bangor 2:38.13
2 Kathleen Stephens 11 George Stevens 2:42.25
3 Sophia Mazzarelli 11 Bangor 2:42.30
4 Addison Nelson 12 Ellsworth 2:47.79
5 Jenna Elkadi 10 Bangor 2:48.01
6 Alivia Mitchell 10 Bangor 2:54.19
7 Alexis Blue 9 Bangor 3:07.65
8 Grace Henry 12 Brewer 3:11.98
Girls 1 Mile Run
================================================================
Name Year School Finals
================================================================
1 Kayla Graffam 12 Brewer 5:51.06
2 Addison Nelson 12 Ellsworth 6:05.65
3 Madison McLean 9 Bangor 6:07.17
4 Grace O'brien 11 Bangor 6:34.43
5 Emme Nguyen 9 Bangor 6:38.73
6 Hannah Williams 11 Bangor 6:41.77
7 Macy Farrington 12 Brewer 6:44.19
8 Gabriella Kahkonen 9 Brewer 7:01.12
9 Maddison Damon 10 George Stevens 7:01.71
10 Christina Degiso 10 Bucksport 7:44.44
Girls 2 Mile Run
================================================================
Name Year School Finals
================================================================
1 Sadie Harrow 12 Bangor 12:37.90
2 Ava Pelkey 9 Bangor 13:29.12
3 Kaylee Johnston 9 Bangor 14:19.02
4 Abby Macdonald 12 Bangor 14:26.60
5 Abigail Farricker 10 Bucksport 15:54.11
Girls 55 Meter Hurdles
===================================================================
Name Year School Prelims H#
===================================================================
Preliminaries
1 Madeline Thai 10 Bangor 9.44q 1
2 Allie Salinas 10 Brewer 9.91q 1
3 Alyx Frazell 12 Bucksport 9.92q 2
4 Lauren Low 10 Brewer 9.98q 2
5 Chase Smith 11 Bangor 10.27q 1
6 Madison Rose 9 Bucksport 10.85q 2
7 Kelsie Murray 9 Brewer 10.89 1
8 Alexis Blue 9 Bangor 12.42 1
Girls 55 Meter Hurdles
================================================================
Name Year School Finals
================================================================
Finals
1 Madeline Thai 10 Bangor 9.53
2 Alyx Frazell 12 Bucksport 9.85
3 Lauren Low 10 Brewer 9.92
4 Allie Salinas 10 Brewer 9.99
5 Madison Rose 9 Bucksport 10.52
6 Chase Smith 11 Bangor 15.78
Girls 4x200 Meter Relay
================================================================
School Finals
================================================================
1 Bangor High School 1:52.69
2 Bangor High School 'B' x1:53.63
3 Brewer High School 1:59.34
-- Bucksport High School DQ x-change out of zone
Girls 4x800 Meter Relay
================================================================
School Finals
================================================================
1 Bangor High School 10:54.47
2 Bucksport High School 13:33.22
Girls High Jump
================================================================
Name Year School Finals
================================================================
1 Easnadh Nobel-To'olo 9 Brewer 4-08.00
2 Emma Syphers 11 Bangor 4-06.00
3 Kathleen Stephens 11 George Stevens J4-06.00
4 Lorraine Thai 12 Bangor 4-04.00
5 Sophia Chase 9 Bangor J4-04.00
6 Rylee Junkins 10 Bangor 4-02.00
7 Hannah Noyes 11 Bangor J4-02.00
8 Rowan Osmer 10 Bangor 3-10.00
-- Alice Thibodeau 9 Bangor NH
-- Leni Robbins 9 Bangor NH
Girls Pole Vault
================================================================
Name Year School Finals
================================================================
1 Anika Noack 12 Bangor 8-06.00
2 Elisabeth Audet 9 Brewer 7-06.00
3 Alice Thibodeau 9 Bangor 7-00.00
4 Rowan Osmer 10 Bangor 6-00.00
5 Sadie D'Alessio 11 Bangor 5-06.00
-- Madalynn Soto 12 Brewer NH
-- Nora Marasco 12 Bangor NH
-- Grace Menario 9 Central NH
-- Eve Pierson 9 Brewer NH
Girls Long Jump
================================================================
Name Year School Finals
================================================================
1 Lauren Vanidestine 10 Brewer 16-07.00
2 Easnadh Nobel-To'olo 9 Brewer 15-10.50
3 Natasha Monreal 11 Bucksport 15-08.75
4 Madison Rose 9 Bucksport 15-07.25
5 Taylor King 12 Bangor 14-06.75
6 Leigh Carter 9 George Stevens J14-06.75
7 Samantha Erb 12 Bangor 14-06.25
8 Elisabeth Audet 9 Brewer 14-05.50
9 Sophia Chase 9 Bangor 14-04.00
10 Emma Syphers 11 Bangor 14-03.50
11 Kelsie Murray 9 Brewer 14-03.00
12 Carly Mchale 10 Bucksport 13-11.50
13 Madison Tritt 12 Bangor 13-08.00
14 Makenzie Rodriguez 10 Bucksport 13-07.50
15 Lorraine Thai 12 Bangor 13-05.00
16 Maranda Pert 11 George Stevens 13-03.25
17 Logan Williams 12 Ellsworth 13-01.50
18 Makenzie Ramos 10 Brewer 12-03.75
19 Grace Menario 9 Central 11-09.50
20 Makenzie Rushlow 11 Central 11-04.25
21 Madeline Rice 9 Bangor 10-08.75
22 Kayli Tilden 10 Ellsworth 10-08.50
23 Hannah McBreairty-Frye 12 Ellsworth 10-04.00
24 Faith Cosselman 10 Brewer 9-11.25
-- Carmen Bryant 9 Brewer FOUL
Girls Triple Jump
================================================================
Name Year School Finals
================================================================
1 Natasha Monreal 11 Bucksport 33-09.00
2 Lauren Vanidestine 10 Brewer 32-06.75
3 Easnadh Nobel-To'olo 9 Brewer 31-05.00
4 Taylor King 12 Bangor 30-03.75
5 Kelsie Murray 9 Brewer 30-00.00
6 Elisabeth Audet 9 Brewer 29-11.50
7 Emma Syphers 11 Bangor 28-07.50
8 Anika Noack 12 Bangor 28-00.25
9 Chase Smith 11 Bangor 27-10.75
Girls Shot Put
================================================================
Name Year School Finals
================================================================
1 Julia Bassi 12 Bangor 38-08.00
2 Maranda Pert 11 George Stevens 30-02.50
3 Madison Randall 9 Brewer 30-02.00
4 Jewel Roberts 12 Central 30-00.00
5 Alexandra Collins 10 Bangor 28-08.75
6 Aliyah Goldsmith 12 Central 28-04.75
7 Meg Morrison 12 Bucksport 27-06.00
8 Emilee Wardwell 11 Bucksport 26-10.00
9 Nora Marasco 12 Bangor 25-00.00
10 Laycee Tweedie 10 Bucksport 24-02.50
11 Brooke Elden 10 Bucksport 23-11.00
12 Natalie Simpson 10 Bucksport 23-06.50
13 Grace Bennett 12 Bangor 23-03.50
14 Leigh Carter 9 George Stevens J23-03.50
15 Abigail Quimby 11 Brewer 21-10.00
16 Claire Lawson 11 Brewer 20-07.50
17 Lydia Carter 9 Bucksport 20-07.00
18 Lydia Hewes 9 Bangor 19-06.50
19 Lily Therrien 10 Bucksport 18-09.00
20 Gwen Berry 11 Bucksport J18-09.00
21 Trinity Allen 9 Bucksport 14-07.25
22 Elizabeth McGaha 9 George Stevens 12-11.00
23 Madylin Coombs 9 Bucksport 12-03.50
-- Karessa Anderson 12 Brewer FOUL
Boys 55 Meter Dash
===================================================================
Name Year School Prelims H#
===================================================================
Preliminaries
1 Gage Jones 11 Bangor 6.90q 1
2 Connor Wight 11 Ellsworth 6.98q 3
3 Josh Horr 12 Brewer 7.02q 4
4 Kiran Small 11 Bangor 7.07q 2
5 Sayer Williams 11 George Stevens 7.23q 5
6 Liam Cormier 11 Brewer 7.27q 5
7 Kyle Horr 11 Brewer 7.31 6
8 Evan Trojano 12 Bucksport 7.35 4
9 Rowan Eslin 9 Bangor 7.44 6
10 Eion Mccloskey 12 Foxcroft 7.46 7
11 Kyle Jankunas 12 Foxcroft 7.46 5
12 Caleb Jenkins 9 Ellsworth 7.50 3
13 Westly Gagne 9 Bangor 7.63 2
14 Jake Lepper 10 George Stevens 7.64 3
15 Logan Jackson 11 Central 7.65 1
16 Brian Nunes 9 Brewer 7.72 4
17 Brandon Elden 12 Bucksport 7.73 5
18 Preston Estey 9 Bangor 7.75 7
19 Kaiden Schmersal 10 Bangor 7.79 4
20 Michael Giggey 9 Brewer 7.80 6
21 Evan Pangburn 10 Bangor 7.86 3
22 Karl El Chaer 12 Bangor 7.89 2
23 Dashel Knapp 10 Bangor 7.89 1
24 Ty Velgouse 12 Central 7.97 3
25 Chris Nichols 11 Bangor 7.98 7
26 Zander Pike 9 Bangor 8.02 2
27 Anthony Godfrey 10 Bangor 8.11 4
28 Ryan St Peter 12 Central 8.12 3
29 Thomas Hilton 12 Ellsworth 8.14 2
30 Michael McAfee 9 Brewer 8.17 7
31 Thomas Dolhancryk 9 Brewer 8.25 5
32 Ben Baldwin 10 George Stevens 8.25 7
33 Porter Mikesell 9 Bangor 8.36 6
34 Jayden Runnells 9 Central 8.44 1
35 Edmund Crownover 9 George Stevens 8.50 5
36 Evan Knowles 9 Brewer 8.62 2
37 Christopher Tapley 10 Bucksport 8.63 6
38 Wyatt McHale JR Bucksport 8.85 1
39 Noah Denham 10 Bangor 8.95 6
40 Isaac Ladd 9 Central 9.14 1
-- Andrew West 10 Brewer DQ 7
Boys 55 Meter Dash
================================================================
Name Year School Finals
================================================================
Finals
1 Gage Jones 11 Bangor 6.75
2 Josh Horr 12 Brewer 6.95
3 Kiran Small 11 Bangor 7.01
4 Connor Wight 11 Ellsworth 7.03
5 Sayer Williams 11 George Stevens 7.21
6 Liam Cormier 11 Brewer 7.26
Boys 200 Meter Dash
===================================================================
Name Year School Finals H#
===================================================================
1 Gage Jones 11 Bangor 24.20 11
2 Josh Horr 12 Brewer 24.46 10
3 Kiran Small 11 Bangor 24.89 11
4 Connor Wight 11 Ellsworth 24.93 10
5 Xavier Pike 11 Bangor 24.93 11
6 Kyle Horr 11 Brewer 25.68 8
7 Logan Jackson 11 Central 25.90 9
8 Eion Mccloskey 12 Foxcroft 26.25 5
9 Caleb Jenkins 9 Ellsworth 26.25 1
10 Ben Baldwin 10 George Stevens 26.34 5
11 Kennen Bean 12 Central 26.34 8
12 Kevin Howard 12 Central 26.83 8
13 Oliver Turner 10 Bangor 26.95 10
14 Jake Lepper 10 George Stevens 27.04 7
15 Kaiden Schmersal 10 Bangor 27.81 6
16 Dashel Knapp 10 Bangor 27.87 6
17 Brian Nunes 9 Brewer 28.05 1
18 Preston Estey 9 Bangor 28.36 9
19 Chris Nichols 11 Bangor 28.40 6
20 Zander Pike 9 Bangor 28.64 7
21 Zachary Peirce 11 Foxcroft 28.91 4
22 Evan Pangburn 10 Bangor 29.08 4
23 Thomas Hilton 12 Ellsworth 29.13 3
24 Casyn Rushlow 9 Central 29.33 7
25 Jayden Runnells 9 Central 29.52 3
26 Anthony Godfrey 10 Bangor 29.83 4
27 Thomas Dolhancryk 9 Brewer 29.93 1
28 Porter Mikesell 9 Bangor 29.96 5
29 Zachary Havey-Chambers 9 Bucksport 30.11 2
30 Noah Denham 10 Bangor 31.08 9
31 Edmund Crownover 9 George Stevens 31.13 2
32 Andrew West 10 Brewer 31.16 1
33 Christopher Tapley 10 Bucksport 32.24 2
34 Isaac Ladd 9 Central 33.08 2
Boys 400 Meter Dash
================================================================
Name Year School Finals
================================================================
1 Michael Johnson 11 Bucksport 1:00.95
2 Matthew Cormier 11 Ellsworth 1:01.13
3 Chris Taylor 11 Ellsworth 1:04.60
4 Edmund Crownover 9 George Stevens 1:12.11
Boys 800 Meter Run
===================================================================
Name Year School Finals H#
===================================================================
1 James Bertolino 12 Brewer 2:05.07 2
2 Gage Bruns 11 Bucksport 2:05.79 2
3 William Hileman 11 Bucksport 2:09.89 2
4 Andrew Hipsky 12 George Stevens 2:15.67 1
5 Henry Poulin 12 Bangor 2:20.57 2
6 Adam Miller-treat 12 Bangor 2:21.03 2
7 Kevin Fogarty 10 Bangor 2:23.53 2
8 Aedyn Hughes 10 Ellsworth 2:29.71 1
9 Matthew Cormier 11 Ellsworth 2:34.56 2
10 Benjamin Tate 10 Ellsworth 2:44.27 1
11 Zachary Havey-Chambers 9 Bucksport 2:50.10 1
12 Marlin Orcutt 9 Bucksport 2:50.42 1
13 Connor Ladd 9 Central 3:20.25 1
Boys 1 Mile Run
===================================================================
Name Year School Finals H#
===================================================================
1 Ethan Partal 12 Bangor 4:45.72 2
2 Trevor Parlee 11 Brewer 4:57.97 2
3 Ethan Demerchant 12 Bangor 5:12.13 2
4 Aedyn Hughes 10 Ellsworth 5:23.46 2
5 Austin Chandler 12 George Stevens 5:24.96 2
6 Ira Buchholz 12 George Stevens 5:29.53 2
7 Alex Busko 10 Bangor 5:30.64 2
8 Runner Jarrett 10 Foxcroft 5:31.79 2
9 Chris Taylor 11 Ellsworth 5:46.48 1
10 Zachary Peirce 11 Foxcroft 5:54.62 1
11 Patrick O'Brien 12 Bangor 5:54.85 1
12 Reagan Monroe 12 Bangor 5:54.93 1
13 Jayden Richards 11 Brewer 6:01.00 1
14 Marlin Orcutt 9 Bucksport 6:06.58 1
15 Owen Norgang 10 Blue Hill Harbor 6:23.72 1
16 Nolan Ainsworth 10 Central 6:34.34 1
17 Will Caron 12 Bangor 7:20.92 1
Boys 2 Mile Run
================================================================
Name Year School Finals
================================================================
1 Runner Jarrett 10 Foxcroft 11:42.83
2 Erik Davis 10 George Stevens 11:49.16
3 Michael Johnson 11 Bucksport 11:49.21
4 Thomas Norgang 12 George Stevens 12:10.36
5 Robert Bennett 12 George Stevens 13:11.77
6 Owen Norgang 10 Blue Hill Harbor 14:00.41
Boys 55 Meter Hurdles
===================================================================
Name Year School Prelims H#
===================================================================
Preliminaries
1 Andrew Hipsky 12 George Stevens 8.65q 2
2 Kyle Jankunas 12 Foxcroft 8.77q 1
3 Pablo Garcia 12 Brewer 9.01q 1
4 Sayer Williams 11 George Stevens 9.05q 2
5 Xavier Pike 11 Bangor 9.69q 2
6 BamiDele Odeleye 10 Brewer 10.57q 2
7 Ryan St Peter 12 Central 11.21 1
Boys 55 Meter Hurdles
================================================================
Name Year School Finals
================================================================
Finals
1 Andrew Hipsky 12 George Stevens 8.36
2 Kyle Jankunas 12 Foxcroft 8.59
3 Pablo Garcia 12 Brewer 8.83
4 Xavier Pike 11 Bangor 8.94
5 Sayer Williams 11 George Stevens 9.11
6 BamiDele Odeleye 10 Brewer 10.57
Boys 4x200 Meter Relay
================================================================
School Finals
================================================================
1 Brewer High School 1:42.33
2 George Stevens Academy 1:42.59
-- Bangor High School DQ x-change off track
Boys 4x800 Meter Relay
================================================================
School Finals
================================================================
1 Bangor High School 9:15.79
2 Central High School 9:23.76
3 Ellsworth High School 9:44.48
4 George Stevens Academy 9:53.39
Boys High Jump
================================================================
Name Year School Finals
================================================================
1 Drew Pierson 12 Ellsworth 5-10.00
2 Lendl Zaehringer 12 Brewer 5-08.00
3 Seamus MacDonald 10 Bangor 5-04.00
4 Kevin Fogarty 10 Bangor 5-00.00
5 Dashel Knapp 10 Bangor J5-00.00
6 Kristian Kendall 10 Bangor 4-10.00
7 Chris Nichols 11 Bangor J4-10.00
8 Rowan Eslin 9 Bangor 4-08.00
9 Rowan Tate 11 Ellsworth J4-08.00
10 Charlie Parker 10 Bucksport 4-06.00
Boys Pole Vault
================================================================
Name Year School Finals
================================================================
1 Dylan Courtney 10 Bucksport 10-06.00
2 Liam Cormier 11 Brewer 10-00.00
3 Pablo Garcia 12 Brewer 9-06.00
4 Kegan Allen 11 Brewer 8-06.00
5 Oliver Turner 10 Bangor 7-06.00
6 Charlie Parker 10 Bucksport J7-06.00
6 Rowan Eslin 9 Bangor J7-06.00
8 Brian Nunes 9 Brewer 7-00.00
9 Andrew West 10 Brewer J7-00.00
-- Evan Knowles 9 Brewer NH
-- Michael McAfee 9 Brewer NH
Boys Long Jump
================================================================
Name Year School Finals
================================================================
1 Josh Horr 12 Brewer 20-08.25
2 Drew Pierson 12 Ellsworth 18-09.50
3 Oscar Croce 11 Bangor 18-06.25
4 BamiDele Odeleye 10 Brewer 16-09.50
5 Lendl Zaehringer 12 Brewer 16-09.25
6 Oliver Turner 10 Bangor 16-05.25
7 Thomas Dolhancryk 9 Brewer 15-02.25
8 Zander Pike 9 Bangor 14-11.25
9 Karl El Chaer 12 Bangor 14-00.50
10 Porter Mikesell 9 Bangor 13-10.00
11 Evan Pangburn 10 Bangor J13-10.00
12 Casyn Rushlow 9 Central 13-08.50
13 Jayden Runnells 9 Central 12-04.50
14 Isaac Ladd 9 Central 11-11.00
15 Nolan Ainsworth 10 Central 11-07.25
16 Connor Ladd 9 Central 11-06.75
-- Kevin Howard 12 Central FOUL
Boys Triple Jump
================================================================
Name Year School Finals
================================================================
1 Drew Pierson 12 Ellsworth 37-08.75
2 Pablo Garcia 12 Brewer 36-09.75
3 Oscar Croce 11 Bangor 35-11.50
4 Kennen Bean 12 Central 33-10.75
5 Ira Buchholz 12 George Stevens 32-00.25
Boys Shot Put
================================================================
Name Year School Finals
================================================================
1 Josiah Rodriguez 12 Bangor 45-07.25
2 Colby Largay 11 Brewer 44-02.25
3 Austin Lozano 12 Bangor 44-02.00
4 Ian Randall 11 Bangor 42-07.25
5 Owen Hoovler 11 Bangor 38-06.00
6 Benjamin Tate 10 Ellsworth 34-02.25
7 Charles St Lawrence 12 George Stevens 33-11.00
8 Kevin Carpenter 10 Brewer 32-01.00
9 Aiden McCue 10 Brewer 31-06.50
10 Harrison Tapley 12 Bangor 30-09.00
11 Jake Bassi 9 Bangor 29-10.50
12 Michael Giggey 9 Brewer 28-07.00
13 Chase Stewart 10 Bangor 26-09.00
14 Jacson Saunders 10 Bucksport 26-07.50
15 Thomas Hilton 12 Ellsworth 26-03.75
16 Jeramiah Santiago 10 Bangor 25-09.50
17 Josh Reardon 9 Central 25-05.00
18 Colin Wheeler 11 Central 25-04.00
19 Garrett Wheeler 9 Central 24-09.75
20 LJ Nicholas 10 Brewer 22-09.00
21 Rylee Whalen 12 Bucksport 21-07.25
22 Nathaniel Larson 9 Brewer 21-04.50
23 Aidan Burgess 10 Brewer 21-02.25
24 Ayden Boyer 11 Brewer 19-10.25
More From WDEA Ellsworth Maine