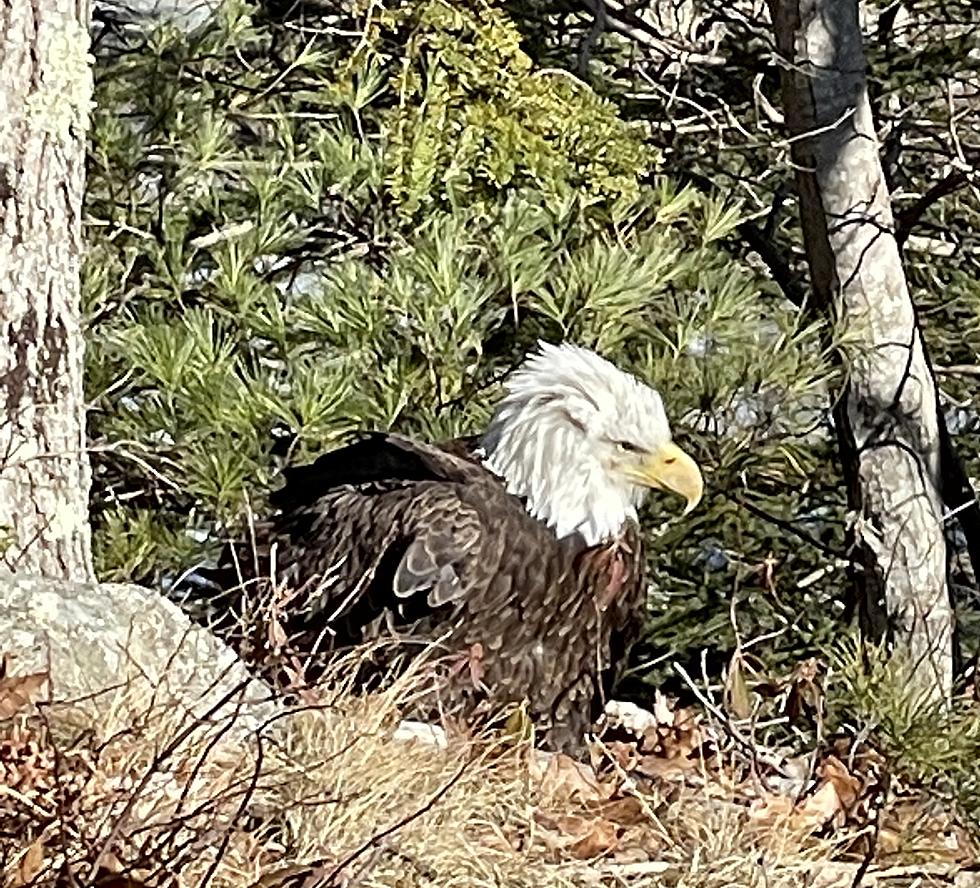 Bald Eagle Rescue at MDI High School [UPDATE]
Photo Anne Patterson
Update - Monday March 14th - A sad update from Avian Haven
Sad news this morning: Despite treatment to restore circulation, the eagle's discolored toes continued to deteriorate and it became clear that he would lose them, as well as the hallux on the same foot. Given the unlikelihood of frostbite, the only explanation we have is the possibility of crushing injuries incurred in a fight with another eagle. The head tilt was linked to a tiny skull fracture that showed up on x-rays taken yesterday. We have ruled out avian influenza. The only link to lead exposure is that he was weakened to a point at which he could not properly defend himself. We gently relieved the eagle of his suffering yesterday afternoon (Sunday)."
On Tuesday, March 8th a bald eagle was found in distress at MDI High School.  Thanks to Anne Patterson, the Director of Adult Education who shared her account with us.
The story below is from Anne's perspective.
As I was leaving MDI High School on Tuesday, there was a bald eagle on the ground in a clearing by the High School driveway opposite the baseball filed.
First I called Acadia Wildlife (Ann Rivers) who notified the warden service immediately. I also notified the school office as school was about to be released. Since there's a lot of traffic that leaves in the 2:20-2:40 time period,  the eagle was at risk of flying into a vehicle even though it couldn't fly well. Luckily Tim Bland the school resource office heard over the school intercom about the bird. He and another officer came and did traffic control so 2-3 people could keep an eye on the eagle.
Our instructions were to maintain distance without letting the bird move off into a difficult rescue area. The crows turned out to be the most annoying factor to the eagle. Each time they came flying over with alarm calls, the eagle would try to walk and fly. But he was unable to go very far.  The two times it tried to fly, it 'crashed' into the low branches of a tree.
We had to do some corralling while waiting for the warden so it would stay in a certain area.
After an hour in the 'brisk' cold winds,  Warden Erik Ruldolph arrived. Using heavy gloves, a net, and a blanket, he easily captured it (think: "Northwoods Law") and transported in a crate it to Acadia Wildlife.
On Wednesday, March 9th  the eagle was transported to Avian Haven in Freedom. Initially this eagle was ID'd as a female which later was changed to male. Avian Haven has 'named' him  BAEA 22-211 Mt. Desert
On Friday, Mach 11th, Anne at noon saw an eagle soaring over the school campus. Perhaps his mate?? Other people remarked that they had seen 2 eagles recently (before Tuesday) flying over the school as well.
Friday afternoon Anne received the following message from Avian Haven
"The eagle is still with us, very thin and anemic on admission with a few other issues. He's eating very well now! "
Saturday morning, Avian Haven posted the following on their Facebook page

It's Anne's hope, and the hope of many I'm sure, that the eagle will recover enough that he can be released back at the High School.
More From WDEA Ellsworth Maine