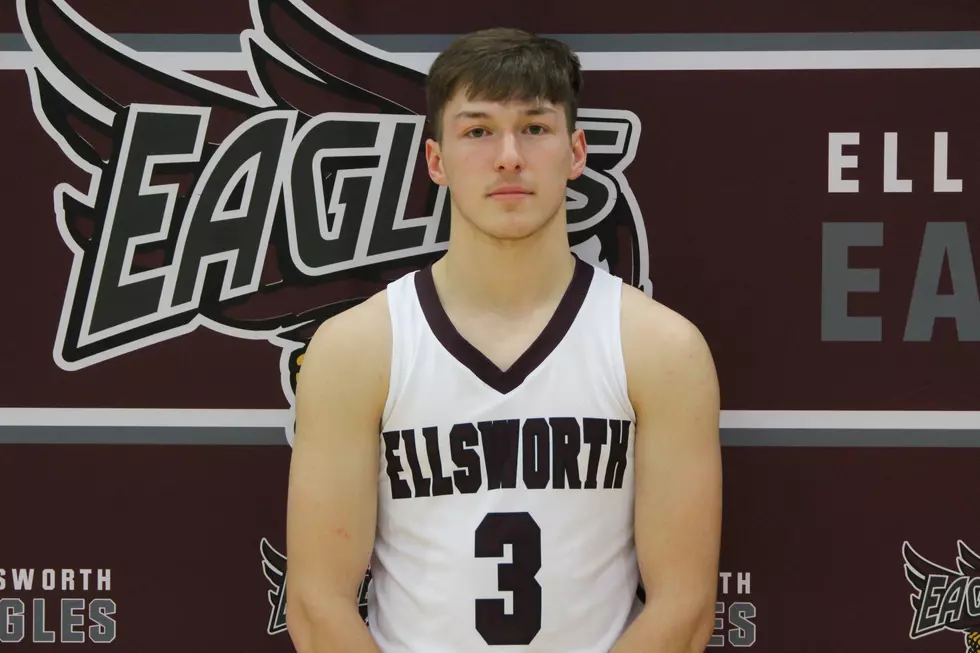 A Good Chance for 1000 Points Tuesday Night in Ellsworth
Chance Mercier #3 Junior - 2022-23 Ellsworth High School Boys Basketball Team, December 5, 2022 Photo Chris Popper
While the weather calls for freezing rain and sleet for Monday, Tuesday night there's a good chance for 1000 points in Ellsworth! You see Ellsworth High School Junior Chance Mercier will start the night with 994 points, needing just 6 points to join the 11 Ellsworth Eagles who have scored 1000 points in their career!
The members of the Ellsworth Eagles 1000 Point Club include
John Edes - 1954
Jack Scott - 1954
Billy Whitmore 1976
Dick Scott - 1981
Lynne Wescott - 1988
Tim Scott - 1988
Nick Johnston - 1999
Corey Dewitt - 2007
Trinity Montigny - 2020
Jackson Curtis - 2020
Hunter Curtis - 2022
Of note Dick and Tim Scott and Jackson and Hunter Curtis are the only brothers on the list. Jack Scott was the father of Dick and Tim Scott!
For those wondering, the National Federation of High Schools implemented the 3-point shot in the 1987-88 season.
The Ellsworth Boys Basketball Team is off to a 10-0 start. In the 10 games, Mercier has scored 263 points, averaging 26.3 points per game. His scoring this year consists of
December 10 vs. Mount View - 37 points
December 14 vs. MDI - 28 points
December 19 vs. Houlton - 22 points
December 22 vs. Presque Isle - 27 points
December 29 vs. Orono - 25 points
December 30 vs. Caribou - 21 points
January 3 vs. John Bapst - 26 points
January 7 vs. Mount View - 23 points
January 13 vs. Washington Academy - 27 points.
Tuesday night, the Eagles will host the Foxcroft Academy Ponies with a special start time of 6:30 p.m. If you can't be there to cheer on Chance as he looks to get to 1000 points and the Eagles remain unbeaten, you can listen on air at WDEA AM 1370. The game will also be broadcast on WDEA Internet Radio, on our free downloadable APP and any Alexa enabled device.
More From WDEA Ellsworth Maine