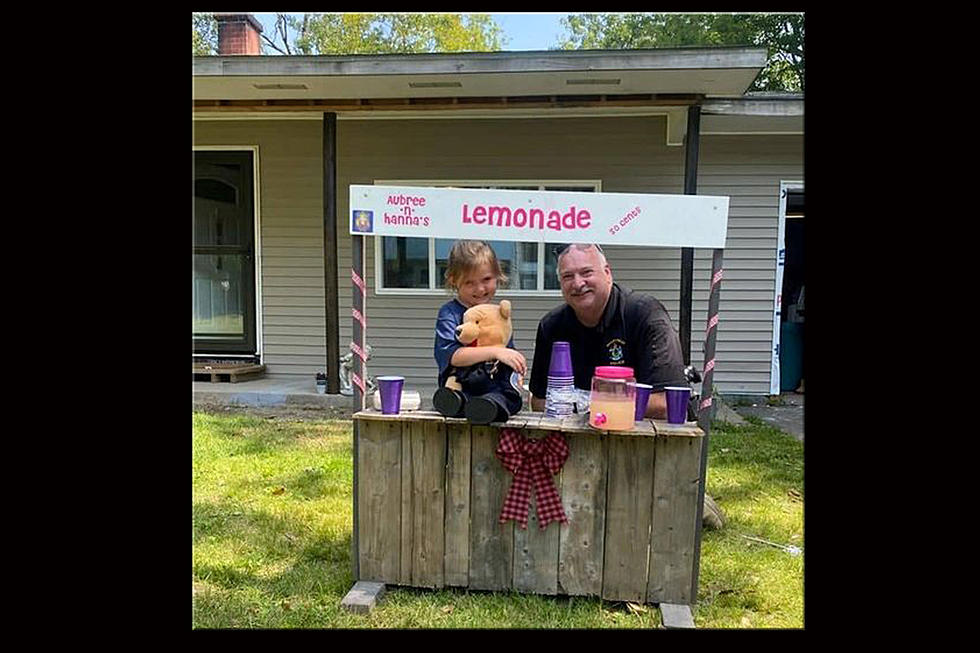 Baileyville Police Chief Stops By For A Glass Of Delicious Lemonade
Bill White, via Baileyville Police Department Facebook
It's always so very cool when police officers go out of their way to make themselves known to the little ones in our communities, and Chief Bob Fitzsimmons of the Baileyville Police Department in Washington County was at it again this week.
We've written about the Chief and his fine department in the past.  Like the time they held a cook out in the police department's parking lot and handed out free hot dogs to the townsfolk.  Just because.
Then there were the giggles and laughter that the Chief created when he grabbed a sled last winter and joined a couple of young girls on a mountain of snow for a few moments of fun.  Just because.
Now just yesterday at Aubree 'n Hanna's Lemonade Stand, which by the way produces some of the better lemonade in Washington County, Chief Fitzsimmons and Sheriff's Deputy Bill White stopped by to pay a visit and to take in a little refreshment.
You can see by the photo that Hanna was thrilled that the Chief made Winnie the Pooh an honorary Corporal with his police department.
Chief Fitzsimmons tell us that, "I think it's important to see the good things that law enforcement does in their communities. This took 10 minutes out of a 12 hour shift but will pay huge dividends down the road. We need to foster the relationships with the folks we protect and serve. That includes all the littles we have in town. They provide me with a feeling of calm in a sometimes terrible shift. The littles are the ones that I want to enjoy spending a few minutes talking to us instead of being afraid of us. I love this town and the seemingly unique relationship we have here in Baileyville."
Kudos to police officers everywhere that take the time to impress our children, and we thank them for doing so!
9 Fun & Cheap Activities To Keep Your Family Busy This Summer
Things People Say That Make Mainers Roll Their Eyes
More From WDEA Ellsworth Maine