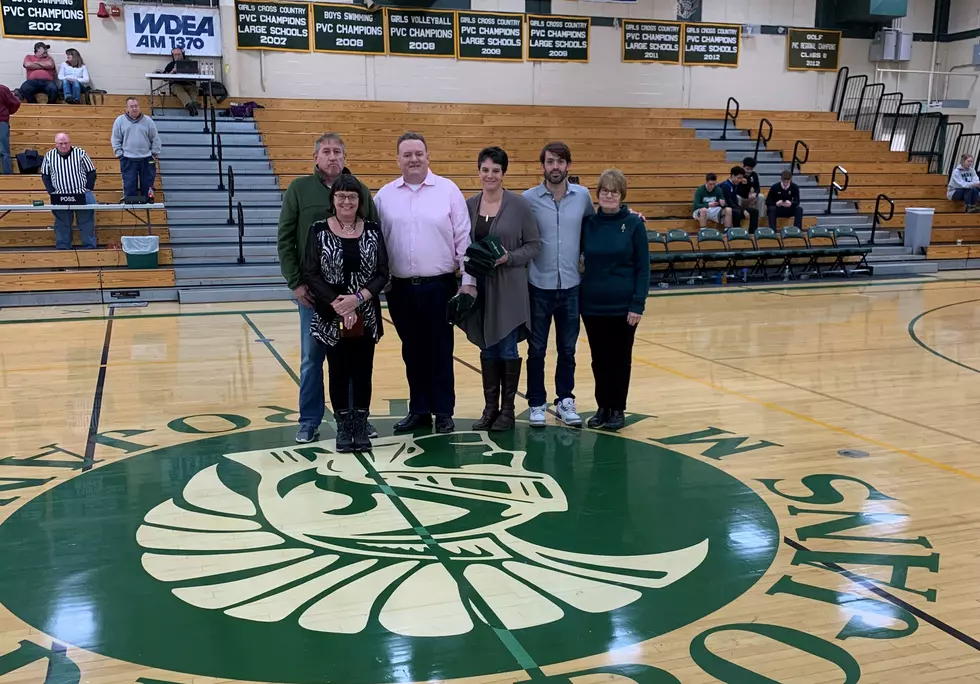 2020 MDI Hall of Fame Class Inductions
Photo MDI High School
The 2020 MDI Hall of Fame Class was inducted on Saturday, December 21st. Here is the Class of 2020 along with the biographies read for each member of the Class of 2020.
Nominations are now being accepted for the Class of 2021. To nominate someone and to see eligibility click HERE
Pictured with the inductees are Principal Matt Haney and Activities Director/Athletic Director Bunky Dow
1

Randy graduated from MDI High School in 1984 and participated on the track, cross country and basketball teams while at MDI. In 1984 he made the All-American 2nd Team for High Jump. After graduating from MDI he went to the University of Maine and set the UMaine record for High Jump which he held for 13 years. Randy currently still holds 15 MDI track records, 35 years later.  His influence on future Trojans is evidenced by his involvement with the Acadia Youth Sports teams, as well as coaching baseball and basketball at the Mount Desert Elementary School, and many years of summer and fall ball teams, traveling with them all over Maine, Massachusetts and New Hampshire.

2

Pam graduated from MDI High School in 1974, participating in cheering, basketball and softball all 4 years while at MDI. She lettered 12 times and was captain her junior and senior years of the Cheering, basketball and softball teams.  After graduating MDI she graduated from the University of Maine Presque Isle, studying physical education and English. Her teaching career took her to Oregon before returning back to Maine when she taught at the Caravel Middle School, Mount Desert Elementary and has been the Assistant Principal here at MDI and the Principal at Tremont before retiring just recently after 30 plus years. Pam has coached basketball, softball, cheering, volleyball and soccer.  Pam enjoys spending time with her family and 2 grandsons Henry and Arthur.

3

Jeff graduated MDI High School in 1998 and currently lives in Brisbane Australia with his wife Meghan and 7 year old daughter Anne. While at MDI Hight School he was on the Indoor and Outdoor Track and Field Teams. The Indoor and Outdoor Teams were State Champions in 1997 and 1998.  He held the School Shot Put record from 1998 to 2019 and the Discus Record from 1998 to 2018. He played football for 4 years, was in the Band, Pep-Band and Orchestra and National Honors Society. He competed in the Junior Olympics 1994 to 1998 and was 8th in the Nation in shot put in 1998 becoming an All-American and the 1998 New England Region Champion. He went to Darmouth for his undergraduate degree competing in Shot put and the Hammer throw before hurting his back. He is currently a certified fundraising executive, leading fundraising efforts to raise over 300 million dollars since 2002 in the US and Australia

4

Ian graduated from MDI High School in 2000. He was a member of the National Honor Society, and member of the Basketball, Cross Country, Track, Baseball, Tennis Teams as well as participating in Band, Chorus and Theater. He was a lead in the MDI Musical "On the Town" in 2000. He was a 1000 point scorer in basketball. He was a true Renaissance Man. He was involved in every aspect of the school that he could be. He is described as a courageous individual, a gentle role model, a kind companion and an overall humble human being, and frankly I'm not sure if there are any ways to better describe a person!  Ian graduated from Bates College and has founded 2 non-profits, geared towards helping children in need.

5

When informed of his induction, Dick told us that the many accomplishments were not "his" but were the result of the "kids". Yes, he won many awards and took the students on many trips and he did it all for the kids. He is proud to have taught and lived in such a supportive community. But let me tell you many of his accomplishments before he retired in 1997. He won 11 State Jazz Competitions. He took his entire music program to the Cherry Blossom Festival in 1980 and the Music in the Parks Festival 3 times between 1986 and 1991. While he was in charge of the Music Program, over 45 percent of the high school were involved in some capacity. More than 25 former students have become professional musicians. Unfortunately Dick couldn't be here with us today. Accepting on his behalf was Heather Graves

6

Heather graduated MDI in 2008 and competed on the Cross Country, Indoor Track and swimming teams. She was a member of the 1st Team All-Conference Cross Country Team all 4 years while at MDI. She qualified and competed in the New England Cross Country Championships 2005, 6 and 7. She still holds the school record in the 800 meter and as a member of the 4 by 800 relay team. She was a member of the National Honor Society.  After High School she went to Lewis and Clark, running cross country, finishing 156th her senior year at the NCAA Division 3 National Championships. Heather would like to become a teacher and cross country coach, hike the Appalachian Trail and run the Boston Marathon.

7

Susan was a teacher and advisor for 33 years and MDI High School in the English and Social Studies Departments.  She extended MDI High School students of the world through programs such as Close Up Washington, Close Up Europe and the Ecuador Field Studies and organized the Model UN Program for many years. She was an integral part of the foreign exchange programs here at MDI High School, hosting and sponsoring countless families and students.
More From WDEA Ellsworth Maine