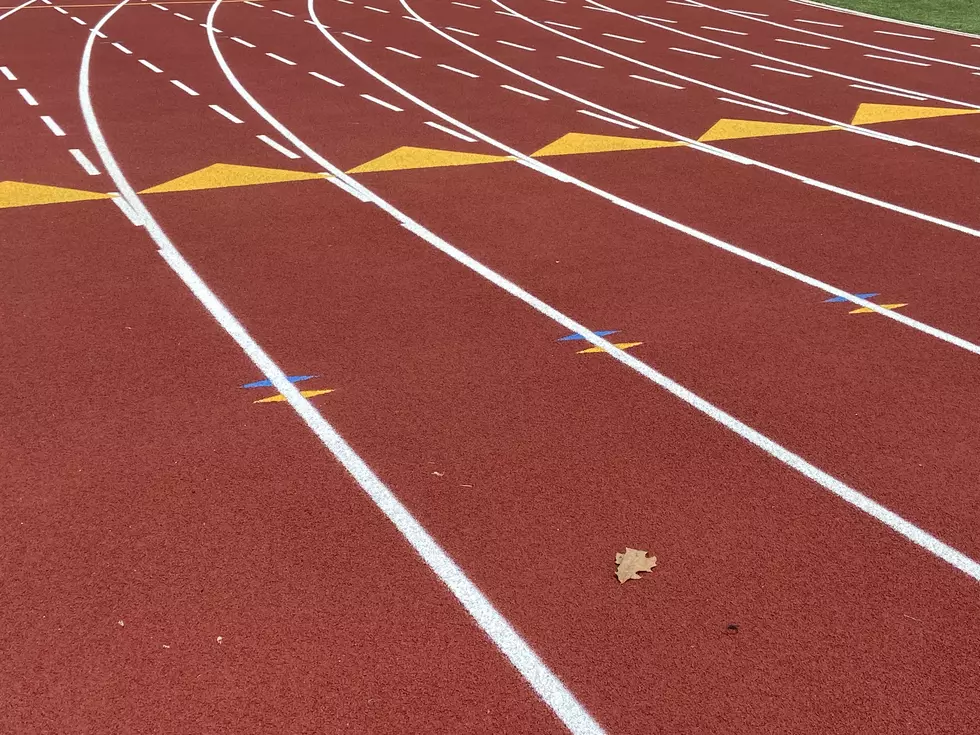 PVC Meet Results – February 11
Photo Chris Popper
The PVC Championships were held, Friday, February 11th at the New Balance Fieldhouse at the University of Maine with both the large and small schools competing.
MDI's Miles Burr set the EMITL record and New Balance Field House records in the 200 Meter Dash with a time of 22.46 and tied his record for 55 Meter Dash with a time of 6.52.
Here are the Team results as well as the individual results.
Girls Large School Team Results
Bangor 181
Brewer 102
Hampden Academy 61
Old Town 43
Ellsworth 16
MDI 15
John Bapst 8
Boys Large School Team Rankings
Bangor 91
Brewer 73
Hampden Academy 65
OId Town 55
Ellsworth 48
John Bapst 30
MDI 30
Hermon 10
Girls Small School Team Results
Bucksport 151
Orono 118
GSA 70
Central 26
Bangor Christian 26
Sumner 25
Boys Small School Team Standings
Orono 168
GSA 77
Sumner 56
Bucksport 48
Foxcroft Academy 29
Central 27
Bangor Christian
Individual Results
Girls 55 Meter Dash Large School
===================================================================
Top 6 Advance by Time
EMITL Record: R 7.22 2009 Danielle Hutchins, MDI
NewBalFH HS: F 7.24 2/10/2022 Anna Conners, Bangor
Name Year School Prelims H#
===================================================================
Preliminaries
1 Anna Connors 12 Bangor High 7.58q 1
2 Lauren Vanidestine 10 Brewer High 7.60q 2
3 Callie Tennett 11 Bangor High 7.67q 3
4 Evelyn Humbert 12 Bangor High 7.85q 3
5 Gloria Hoskins 11 Brewer High 7.86q 2
6 Felicia Marin 11 Hampden Acad 7.99q 1
7 Maddie Cyr 11 Bangor High 8.00 2
8 Olivia Lizzotte 9 Old Town Hig 8.00 3
9 Jenny Carr 12 Mt. Desert I 8.01 1
10 Ani Roberts 11 Bangor High 8.15 3
11 Mikayla Johnston 10 Old Town Hig 8.18 2
12 Madison Tritt 12 Bangor High 8.31 1
13 Olivia Small 12 Old Town Hig 8.34 3
14 Jordan Doak 12 Brewer High 8.35 1
15 Rhiannon Bousquet 10 Old Town Hig 8.36 2
16 Emily Wheeler 10 Old Town Hig 8.45 3
17 Brookelyn Schmersal 9 Bangor High 8.50 1
18 Kiersten Shayne 9 Hampden Acad 8.52 2
Girls 55 Meter Dash Large School
=======================================================================
EMITL Record: R 7.22 2009 Danielle Hutchins, MDI
NewBalFH HS: F 7.24 2/10/2022 Anna Conners, Bangor
Name Year School Finals Points
=======================================================================
Finals
1 Anna Connors 12 Bangor High 7.41 10
2 Lauren Vanidestine 10 Brewer High 7.52 8
3 Callie Tennett 11 Bangor High 7.60 6
4 Gloria Hoskins 11 Brewer High 7.87 4
5 Evelyn Humbert 12 Bangor High 7.90 2
6 Felicia Marin 11 Hampden Acad 7.99 1
Girls 200 Meter Dash Large School
==========================================================================
EMITL Record: R 25.23 2023 Anna Connors, Bangor
NewBalFH HS: F 25.23 2/5/2023 Anna Connors, Bangor
Name Year School Finals H# Points
==========================================================================
1 Anna Connors 12 Bangor High 26.44 5 10
2 Sophia Chase 9 Bangor High 28.00 5 8
3 Felicia Marin 11 Hampden Acad 28.29 4 6
4 Gloria Hoskins 11 Brewer High 28.32 5 4
5 Samantha Erb 12 Bangor High 28.39 3 2
6 Jenny Carr 12 Mt. Desert I 28.59 4 1
7 Kayleigh Johnston 12 Old Town Hig 28.86 4
8 Mikayla Johnston 10 Old Town Hig 29.44 3
9 Ani Roberts 11 Bangor High 29.79 2
10 Madison Tritt 12 Bangor High 29.85 2
11 Jordan Doak 12 Brewer High 30.05 3
12 Emily Wheeler 10 Old Town Hig 30.15 2
13 Brookelyn Schmersal 9 Bangor High 30.67 1
14 Olivia Barthelemy 9 Old Town Hig 30.86 1
15 Abby Hardison 9 Ellsworth Hi 33.00 1
Girls 400 Meter Dash Large School
==========================================================================
EMITL Record: R 57.28 2023 Anna Connors, Bangor
NewBalFH HS: F 57.28 1/7/2023 Anna Connors, Bangor
Name Year School Finals H# Points
==========================================================================
1 Anna Connors 12 Bangor High 59.44 4 10
2 Maddie Cyr 11 Bangor High 1:01.68 3 8
3 Callie Tennett 11 Bangor High 1:02.68 4 6
4 Evelyn Humbert 12 Bangor High 1:03.42 3 4
5 Kayleigh Johnston 12 Old Town Hig 1:04.69 3 2
6 Natalia Charles 10 Hampden Acad 1:05.05 4 1
7 Taylor King 12 Bangor High 1:07.26 2
8 Gwyneth Rand 11 John Bapst M 1:07.40 2
9 Seneca Haney 9 Mt. Desert I 1:09.63 2
10 Caleigh Tasker 12 Hermon High 1:10.73 1
11 Myah Worster 12 Old Town Hig 1:10.82 1
12 Marie Nemeth 11 John Bapst M 1:11.53 2
13 Abby Hardison 9 Ellsworth Hi 1:14.27 1
Girls 800 Meter Run Large School
=======================================================================
EMITL Record: R 2:14.29 2016 Tiara Tardy, Orono
NewBalFH HS: F 2:14.29 1/23/2016 Tiara Tardy, Orono
Name Year School Finals Points
=======================================================================
1 Katie McCarthy 11 Bangor High 2:26.00 10
2 Addison Nelson 12 Ellsworth Hi 2:31.26 8
3 Sophia Mazzarelli 11 Bangor High 2:33.77 6
4 Alexis Wesley 10 Old Town Hig 2:34.50 4
5 Sophia Taylor 12 Mt. Desert I 2:38.54 2
6 Alexis Blue 9 Bangor High 2:40.73 1
7 Kayla Graffam 12 Brewer High 2:41.87
8 Jenna Elkadi 10 Bangor High 2:42.39
9 Grace Daigle 11 Hampden Acad 2:45.50
10 Emily Bishop 11 Hampden Acad 2:46.81
11 Alivia Mitchell 10 Bangor High 2:46.85
12 Macy Farrington 12 Brewer High 2:56.01
Girls 1 Mile Run Large School
=======================================================================
EMITL Record: R 4:55.23 2016 Tiara Tardy, Orono
NewBalFH HS: F 4:55.23 2/8/2016 Tiara Tardy, Orono
Name Year School Finals Points
=======================================================================
1 Zoe Castrucci 10 Hampden Acad 5:38.09 10
2 Addison Nelson 12 Ellsworth Hi 5:44.95 8
3 Kayla Graffam 12 Brewer High 5:46.01 6
4 Gretchen Plant 9 Hampden Acad 5:46.06 4
5 Madison McLean 9 Bangor High 5:58.51 2
6 Cassidy Rackliffe 12 Old Town Hig 5:58.99 1
7 Grace O'brien 11 Bangor High 6:02.76
8 Alison St. Peter 11 Bangor High 6:08.34
9 Ava Pelkey 9 Bangor High 6:16.71
10 Emme Nguyen 9 Bangor High 6:29.81
11 Hannah Williams 11 Bangor High 6:31.00
Girls 2 Mile Run Large School
=======================================================================
EMITL Record: R 10:40.94 2005 Cassie Hintz, Old Town
NewBalFH HS: F 11:03.37 1/8/2022 Megan Randall, Bangor
Name Year School Finals Points
=======================================================================
1 Zoe Castrucci 10 Hampden Acad 11:51.05 10
2 Sadie Harrow 12 Bangor High 11:54.20 8
3 Gretchen Plant 9 Hampden Acad 13:15.91 6
4 Cassidy Rackliffe 12 Old Town Hig 13:31.39 4
5 Abby Macdonald 12 Bangor High 14:25.18 2
6 Kaylee Johnston 9 Bangor High 16:04.39 1
Girls 55 Meter Hurdles Large School
===================================================================
Top 6 Advance by Time
EMITL Record: R 8.47 2014 Synclaire Tasker, Brewer
NewBalFH HS: F 8.47 2/8/2014 Synclaire Tasker, Brewer
Name Year School Prelims H#
===================================================================
Preliminaries
1 Madeline Thai 10 Bangor High 9.41q 2
2 Lauren Low 10 Brewer High 9.84q 3
3 Grace Willey 12 Old Town Hig 9.88q 1
4 Natalia Charles 10 Hampden Acad 10.13q 2
5 Chase Smith 11 Bangor High 10.16q 1
6 Cayleigh Fournier 9 Hampden Acad 10.30q 3
7 Lilly Mitchell 11 Old Town Hig 10.60 2
8 Megan Sweeney 12 Hampden Acad 10.64 1
9 Paige Inforati 12 John Bapst M 11.02 2
10 Elyannah Briggs 9 Old Town Hig 11.09 3
11 Alexis Blue 9 Bangor High 11.36 1
12 Violet Davis 11 John Bapst M 11.76 1
13 Kristina Judkins 10 John Bapst M 13.16 2
Girls 55 Meter Hurdles Large School
=======================================================================
EMITL Record: R 8.47 2014 Synclaire Tasker, Brewer
NewBalFH HS: F 8.47 2/8/2014 Synclaire Tasker, Brewer
Name Year School Finals Points
=======================================================================
Finals
1 Madeline Thai 10 Bangor High 9.39 10
2 Grace Willey 12 Old Town Hig 9.40 8
3 Lauren Low 10 Brewer High 9.66 6
4 Natalia Charles 10 Hampden Acad 10.04 4
5 Chase Smith 11 Bangor High 10.23 2
6 Cayleigh Fournier 9 Hampden Acad 10.36 1
Girls 4x200 Meter Relay Large School
==========================================================================
EMITL Record: R 1:48.08 2023 , Bangor
C. Tennett, E. Humbert, M. Thai, A. Connors
NewBalFH HS: F 1:48.08 1/26/2023 , Bangor
C. Tennett, E. Humbert, M. Thai, A. Connors
School Finals H# Points
==========================================================================
1 Bangor High School 1:50.98 2 10
1) Callie Tennett 11 2) Maddie Cyr 11
3) Evelyn Humbert 12 4) Madeline Thai 10
2 Hampden Academy 1:58.16 2 8
1) Felicia Marin 11 2) Natalia Charles 10
3) Molly Curtis 11 4) Megan Sweeney 12
3 Mt. Desert Island High School 2:00.40 1 6
1) Jenny Carr 12 2) Lucille Misiaszak 9
3) Seneca Haney 9 4) Piper Soares 12
4 Brewer High School 2:00.90 1 4
1) Lauren Low 10 2) Gloria Hoskins 11
3) Kelsie Murray 9 4) Kayla Graffam 12
5 John Bapst Memorial High Schoo 2:03.58 1 2
1) Marie Nemeth 11 2) Paige Inforati 12
3) Sophia Fogg 10 4) Gwyneth Rand 11
-- Old Town High School DQ 2 out of zone
1) Kayleigh Johnston 12 2) Mikayla Johnston 10
3) Alexis Wesley 10 4) Olivia Lizzotte 9
Girls 4x800 Meter Relay Large School
=======================================================================
EMITL Record: R 9:55.61 2019 , Hampden
M. Flanagan, E. Parker, A. Dowling,H. Shearer
NewBalFH HS: F 9:55.00 2/2/2019 , Hampden
M. Flanagan,E. Parker, A. Dowling, H. Shearer
School Finals Points
=======================================================================
1 Bangor High School 10:36.24 10
1) Madison McLean 9 2) Sophia Mazzarelli 11
3) Jenna Elkadi 10 4) Katie McCarthy 11
2 Hampden Academy 11:45.12 8
1) Emily Bishop 11 2) Gretchen Plant 9
3) Meredith Doucette 9 4) Grace Daigle 11
3 Brewer High School 13:44.74 6
1) Grace Henry 12 2) Carmen Bryant 9
3) Gabriella Kahkonen 9 4) Macy Farrington 12
Girls High Jump Large School
=======================================================================
EMITL Record: R 5-06 2013 Grace MacLean, Bangor
NewBalFH HS: F 5-05 1/10/2020 Lia Frazee, Bangor
Name Year School Finals Points
=======================================================================
1 Grace Willey 12 Old Town Hig 5-01.00 10
2 Elyannah Briggs 9 Old Town Hig 4-10.00 8
3 Paige Inforati 12 John Bapst M 4-08.00 6
4 Easnadh Nobel-To'olo 9 Brewer High 4-06.00 4
5 Myah Worster 12 Old Town Hig J4-06.00 2
6 Emma Syphers 11 Bangor High J4-06.00 1
7 Sophia Chase 9 Bangor High 4-04.00
8 Lorraine Thai 12 Bangor High J4-04.00
9 Piper Soares 12 Mt. Desert I J4-04.00
10 Cayleigh Fournier 9 Hampden Acad 4-02.00
10 Olivia Small 12 Old Town Hig 4-02.00
Girls Pole Vault Large School
=======================================================================
EMITL Record: R 11-00 2017 Rihan Smallwood, Bangor
NewBalFH HS: F 11-00 2/10/2017 Rihan Smallwood, Bangor
Name Year School Finals Points
=======================================================================
1 Anika Noack 12 Bangor High 9-00.00 10
2 Nora Marasco 12 Bangor High 8-06.00 8
3 Elisabeth Audet 9 Brewer High 7-06.00 6
4 Alice Thibodeau 9 Bangor High 7-00.00 4
5 Easnadh Nobel-To'olo 9 Brewer High J7-00.00 2
6 Stella Fox 10 Hampden Acad J7-00.00 1
7 Megan Sweeney 12 Hampden Acad 6-06.00
7 Sadie D'Alessio 11 Bangor High 6-06.00
9 Madalynn Soto 12 Brewer High J6-06.00
9 Lucille Misiaszak 9 Mt. Desert I J6-06.00
11 Sophia Murphy 11 Mt. Desert I 6-00.00
12 Seneca Haney 9 Mt. Desert I J6-00.00
Girls Long Jump Large School
=======================================================================
EMITL Record: R 19-04 2019 Camille Kohtala, Orono
NewBalFH HS: F 19-04 2/10/2019 Camille Kohtala, Orono
Name Year School Finals Points
=======================================================================
1 Lauren Vanidestine 10 Brewer High 16-11.25 10
2 Samantha Erb 12 Bangor High 16-09.75 8
3 Sophia Chase 9 Bangor High 16-04.25 6
4 Easnadh Nobel-To'olo 9 Brewer High 15-04.75 4
5 Elyannah Briggs 9 Old Town Hig 15-01.25 2
6 Kelsie Murray 9 Brewer High 15-00.00 1
7 Elisabeth Audet 9 Brewer High 14-09.00
8 Emma Syphers 11 Bangor High 14-08.25
9 Grace Willey 12 Old Town Hig 14-03.75
10 Taylor King 12 Bangor High 14-03.50
11 Lorraine Thai 12 Bangor High 13-11.75
12 Madison Tritt 12 Bangor High 13-03.75
Girls Triple Jump Large School
=======================================================================
EMITL Record: R 38-00 2020 Alyssa Elliott, Bangor
NewBalFH HS: F 38-00 1/17/2020 Alyssa Elliott, Bangor
Name Year School Finals Points
=======================================================================
1 Lauren Vanidestine 10 Brewer High 34-07.50 10
2 Elisabeth Audet 9 Brewer High 32-06.00 8
3 Taylor King 12 Bangor High 32-04.00 6
4 Kelsie Murray 9 Brewer High 31-11.00 4
5 Olivia Lizzotte 9 Old Town Hig 31-07.75 2
6 Molly Curtis 11 Hampden Acad 31-02.50 1
7 Lauren Low 10 Brewer High 30-08.75
8 Anika Noack 12 Bangor High 30-02.00
9 Piper Soares 12 Mt. Desert I 30-00.00
10 Chase Smith 11 Bangor High 28-08.25
11 Abigail Talon 12 Old Town Hig 28-04.50
12 Kiersten Shayne 9 Hampden Acad 27-08.50
Girls Shot Put Large School
=======================================================================
EMITL Record: R 43-01.50 1983 Diane LeClair, Orono
NewBalFH HS: F 41-01 1/28/2017 Daija Misler, Hampden
Name Year School Finals Points
=======================================================================
1 Julia Bassi 12 Bangor High 37-07.75 10
2 Claire Henry 11 Brewer High 33-03.50 8
3 Madison Randall 9 Brewer High 32-09.00 6
4 Olivia Pratt 11 Mt. Desert I 31-08.75 4
5 Logan Closson 12 Mt. Desert I 31-05.50 2
6 Karessa Anderson 12 Brewer High 28-10.50 1
7 Olivia Neely 12 Old Town Hig 28-07.50
8 Alexandra Collins 10 Bangor High 26-11.50
9 Nora Marasco 12 Bangor High 26-07.00
10 Grace Bennett 12 Bangor High 26-02.00
11 Avery Preston-Schreck 12 Mt. Desert I 25-03.00
-- Rachel Goodwin 10 Mt. Desert I FOUL
Girls 55 Meter Dash Small School
===================================================================
Top 6 Advance by Time
EMITL Record: R 7.22 2009 Danielle Hutchins, MDI
NewBalFH HS: F 7.24 2/10/2022 Anna Connors, Bangor
Name Year School Prelims H#
===================================================================
Preliminaries
1 Veronica Mercier 12 Bangor Chris 7.76q 1
2 Haley Rose 9 Bucksport Hi 7.86q 2
3 Carly Mchale 10 Bucksport Hi 8.23q 1
4 Grace Menario 9 Central High 8.29q 2
5 Makenzie Rodriguez 10 Bucksport Hi 8.41q 1
6 Makenzie Rushlow 11 Central High 8.56q 2
7 Chloe Bratcher 10 Bucksport Hi 8.66 2
8 Rhiannon Sargent 10 Sumner Memor 8.93 1
9 Emily Burrill 11 Sumner Memor 9.18 1
Girls 55 Meter Dash Small School
=======================================================================
EMITL Record: R 7.22 2009 Danielle Hutchins, MDI
NewBalFH HS: F 7.24 2/10/2022 Anna Connors, Bangor
Name Year School Finals Points
=======================================================================
Finals
1 Veronica Mercier 12 Bangor Chris 7.57 10
2 Haley Rose 9 Bucksport Hi 7.81 8
3 Carly Mchale 10 Bucksport Hi 8.19 6
4 Grace Menario 9 Central High 8.29 4
5 Makenzie Rushlow 11 Central High 8.58 2
6 Makenzie Rodriguez 10 Bucksport Hi 8.63 1
Girls 200 Meter Dash Small School
==========================================================================
EMITL Record: R 25.23 2023 Anna Connors, Bangor
NewBalFH HS: F 25.23 2/15/2023 Anna Connors, Bangor
Name Year School Finals H# Points
==========================================================================
1 Haley Rose 9 Bucksport Hi 27.66 2 10
2 Veronica Mercier 12 Bangor Chris 27.78 2 8
3 Natasha Monreal 11 Bucksport Hi 28.82 2 6
4 Ada Fisher 11 Sumner Memor 29.55 2 4
5 Leigha Woodard 10 Orono High S 30.71 1 2
6 Roz O'Reilly 10 Orono High S 30.88 1 1
7 Natalie Speed 9 Central High 33.26 1
8 Rhiannon Sargent 10 Sumner Memor 34.15 1
Girls 400 Meter Dash Small School
==========================================================================
EMITL Record: R 57.28 2023 Anna Connors, Bangor
NewBalFH HS: F 57.28 1/7/2023 Anna Connors, Bangor
Name Year School Finals H# Points
==========================================================================
1 Kathleen Stephens 11 George Steve 1:06.76 2 10
2 Ada Fisher 11 Sumner Memor 1:07.16 2 8
3 Alyx Frazell 12 Bucksport Hi 1:10.31 2 6
4 Sophia Landrum 11 George Steve 1:13.10 1 4
5 Maddi Matteson 12 Sumner Memor 1:14.01 1 2
6 Ashley Cyr 11 Bucksport Hi 1:14.66 2 1
7 Adella Mabee 11 Orono High S 1:17.11 1
8 June Page 11 George Steve 1:22.62 1
Girls 800 Meter Run Small School
=======================================================================
EMITL Record: R 2:14.29 2016 Tiara Tardy, Orono
NewBalFH HS: F 2:14.29 1/23/2016 Tiara Tardy, Orono
Name Year School Finals Points
=======================================================================
1 Ellie Brooks 12 Orono High S 2:37.08 10
2 Audra Brooks 9 Orono High S 2:38.76 8
3 Abigail Hunt 12 Bucksport Hi 3:02.64 6
4 Nettie Fox 11 Bucksport Hi 3:05.59 4
Girls 1 Mile Run Small School
=======================================================================
EMITL Record: R 4:55.23 2016 Tiara Tardy, Orono
NewBalFH HS: F 4:55.23 2/8/2016 Tiara Tardy, Orono
Name Year School Finals Points
=======================================================================
1 Thea Crowley 12 George Steve 5:30.01 10
2 Audra Brooks 9 Orono High S 5:43.40 8
3 Ellie Brooks 12 Orono High S 5:43.86 6
4 Maya Boyington 9 Orono High S 5:50.15 4
5 Abigail Hunt 12 Bucksport Hi 6:37.68 2
6 Margaret Reilich-Godino 11 Sumner Memor 6:41.02 1
7 Christina Degiso 10 Bucksport Hi 6:57.16
8 Maddison Damon 10 George Steve 7:01.89
9 Iris Kimball 11 George Steve 7:03.87
10 Mina Walton 9 Sumner Memor 7:10.39
Girls 2 Mile Run Small School
=======================================================================
EMITL Record: R 10:40.94 2005 Cassie Hintz, Old Town
NewBalFH HS: F 11:03.37 1/8/2022 Megan Randall, Bangor
Name Year School Finals Points
=======================================================================
1 Thea Crowley 12 George Steve 11:49.75 10
2 Maya Boyington 9 Orono High S 12:19.20 8
3 Ellie Brooks 12 Orono High S 13:13.22 6
4 Audra Brooks 9 Orono High S 13:16.09 4
5 Abigail Farricker 10 Bucksport Hi 14:57.97 2
6 Georgia Clews 9 George Steve 15:00.70 1
7 Siobhan Farrell 10 Orono High S 15:00.73
Girls 55 Meter Hurdles Small School
===================================================================
Top 6 Advance by Time
EMITL Record: R 8.47 2014 Synclaire Tasker, Brewer
NewBalFH HS: F 8.47 2/8/2014 Synclaire Tasker, Brewer
Name Year School Prelims H#
===================================================================
Preliminaries
1 Alyx Frazell 12 Bucksport Hi 9.95q 1
2 Chloe Bratcher 10 Bucksport Hi 10.28q 1
3 Madison Rose 9 Bucksport Hi 10.30q 2
4 Ada Fisher 11 Sumner Memor 10.55q 2
5 Abigail Wilson 9 Bucksport Hi 11.02q 1
6 Marie Komedja 10 Orono High S 11.20q 2
7 Adella Mabee 11 Orono High S 11.62 2
Girls 55 Meter Hurdles Small School
=======================================================================
EMITL Record: R 8.47 2014 Synclaire Tasker, Brewer
NewBalFH HS: F 8.47 2/8/2014 Synclaire Tasker, Brewer
Name Year School Finals Points
=======================================================================
Finals
1 Ada Fisher 11 Sumner Memor 9.65 10
2 Alyx Frazell 12 Bucksport Hi 9.78 8
3 Chloe Bratcher 10 Bucksport Hi 10.11 6
4 Madison Rose 9 Bucksport Hi 10.36 4
5 Abigail Wilson 9 Bucksport Hi 10.88 2
6 Marie Komedja 10 Orono High S 11.02 1
Girls 4x200 Meter Relay Small School
=======================================================================
EMITL Record: R 1:48.08 2023 , Bangor
C. Tennett, E. Humbert, M. Thai, A. Connors
NewBalFH HS: F 1:48.08 1/26/2023 , Bangor
C. Tennett, E. Humbert, M. Thai, A. Connors
School Finals Points
=======================================================================
1 Bucksport High School 1:56.10 10
1) Madison Rose 9 2) Haley Rose 9
3) Chloe Bratcher 10 4) Makenzie Rodriguez 10
2 Orono High School 2:01.82 8
1) Marie Komedja 10 2) Roz O'Reilly 10
3) Orianna McIntire 12 4) Leigha Woodard 10
3 George Stevens Academy 2:04.49 6
1) Sophia Landrum 11 2) Leigh Carter 9
3) Maddison Damon 10 4) Kathleen Stephens 11
4 Central High School 2:08.93 4
1) Makenzie Rushlow 11 2) Natalie Speed 9
3) Dalia Rivera 11 4) Grace Menario 9
Girls 4x800 Meter Relay Small School
=======================================================================
EMITL Record: R 9:55.61 2019 , Hampden
M. Flanagan,E. Parker,A. Dowling,H. Shearer
NewBalFH HS: F 9:55.00 2/2/2019 , Hampden
Z Lorio, G Gadsby, M B Catus, E Broughton
School Finals Points
=======================================================================
1 Orono High School 12:06.10 10
1) Adella Mabee 11 2) Abby Batchelder 12
3) Siobhan Farrell 10 4) Maya Boyington 9
2 Bucksport High School 12:37.65 8
1) Christina Degiso 10 2) Abigail Farricker 10
3) Nettie Fox 11 4) Abigail Hunt 12
3 George Stevens Academy 12:43.10 6
1) Georgia Clews 9 2) Iris Kimball 11
3) June Page 11 4) Maddison Damon 10
Girls High Jump Small School
=======================================================================
EMITL Record: R 5-06 2013 Grace MacLean, Bangor
NewBalFH HS: F 5-05 1/10/2020 Lia Frazee, Bangor
Name Year School Finals Points
=======================================================================
1 Kathleen Stephens 11 George Steve 4-06.00 10
2 Hope St. John 12 Bangor Chris 4-04.00 8
3 Abby Batchelder 12 Orono High S 3-10.00 6
4 Orianna McIntire 12 Orono High S 3-08.00 4
Girls Pole Vault Small School
=======================================================================
EMITL Record: R 11-00 2017 Rihan Smallwood, Bangor
NewBalFH HS: F 11-00 2/10/2017 Rihan Smallwood, Bangor
Name Year School Finals Points
=======================================================================
1 Roz O'Reilly 10 Orono High S 6-06.00 10
2 Alyx Frazell 12 Bucksport Hi J6-06.00 8
3 Ashley Cyr 11 Bucksport Hi 5-06.00 6
4 Iria Diez 12 Orono High S 5-00.00 4
5 Grace Menario 9 Central High J5-00.00 2
Girls Long Jump Small School
=======================================================================
EMITL Record: R 19-04 2018 Camille Kohtala, Orono
NewBalFH HS: F 19-04 2/10/2019 Camille Kohtala, Orono
Name Year School Finals Points
=======================================================================
1 Natasha Monreal 11 Bucksport Hi 17-03.75 10
2 Carly Mchale 10 Bucksport Hi 15-02.75 8
3 Leigha Woodard 10 Orono High S 15-02.00 6
4 Maranda Pert 11 George Steve 14-07.50 4
5 Madison Rose 9 Bucksport Hi 14-02.00 2
6 Leigh Carter 9 George Steve J14-02.00 1
7 Makenzie Rodriguez 10 Bucksport Hi 13-05.50
8 Makenzie Rushlow 11 Central High 12-10.25
9 Rhiannon Sargent 10 Sumner Memor 11-06.50
10 Elizabeth McGaha 9 George Steve 9-05.50
Girls Triple Jump Small School
=======================================================================
EMITL Record: R 38-00 2020 Alyssa Elliott, Bangor
NewBalFH HS: F 38-00 1/17/2020 Alyssa Elliott, Bangor
Name Year School Finals Points
=======================================================================
1 Natasha Monreal 11 Bucksport Hi 34-01.25 10
2 Carly Mchale 10 Bucksport Hi 31-02.75 8
3 Marie Komedja 10 Orono High S 29-10.50 6
4 Abby Batchelder 12 Orono High S 28-07.75 4
5 Orianna McIntire 12 Orono High S 26-05.50 2
Girls Shot Put Small School
=======================================================================
EMITL Record: R 43-01.50 1983 Diane LeClair, Orono
NewBalFH HS: F 41-01 1/28/2017 Daija Misler, Hampden
Name Year School Finals Points
=======================================================================
1 Jewel Roberts 12 Central High 30-08.00 10
2 Maranda Pert 11 George Steve 30-00.00 8
3 Meg Morrison 12 Bucksport Hi 29-05.25 6
4 Aliyah Goldsmith 12 Central High 28-08.50 4
5 Kristen Farricker 9 Bucksport Hi 27-07.50 2
6 Emilee Wardwell 11 Bucksport Hi 27-01.50 1
7 Natalie Simpson 10 Bucksport Hi 26-07.00
8 Emily Burrill 11 Sumner Memor 24-04.00
9 Laycee Tweedie 10 Bucksport Hi 23-04.50
10 Brooke Elden 10 Bucksport Hi 21-06.25
11 Lily Therrien 10 Bucksport Hi 21-02.50
Boys 55 Meter Dash Large School
===================================================================
Top 6 Advance by Time
EMITL Record: R 6.52 2023 Miles Burr, MDI
NewBalFH HS: F 6.52 2/4/2023 Miles Burr, MDI
Name Year School Prelims H#
===================================================================
Preliminaries
1 Miles Burr 11 Mt. Desert I 6.55q 1
2 Gage Jones 11 Bangor High 6.66q 2
3 Connor Wight 11 Ellsworth Hi 6.77q 3
4 Kiran Small 11 Bangor High 6.79q 3
5 Jorden Cote 12 Old Town Hig 6.98q 2
6 Andrew Cote 10 Hampden Acad 7.07q 1
7 Aiden Mitchell 11 Mt. Desert I 7.09 2
8 Caleb Jenkins 9 Ellsworth Hi 7.35 3
9 Dominick Harriman 12 Hermon High 7.38 2
10 Rowan Eslin 9 Bangor High 7.40 3
11 Alexander Wilcox 9 Hampden Acad 7.52 1
12 Preston Estey 9 Bangor High 7.52 2
13 Kaiden Schmersal 10 Bangor High 7.65 3
14 Karl El Chaer 12 Bangor High 7.73 3
Boys 55 Meter Dash Large School
=======================================================================
EMITL Record: R 6.52 2023 Miles Burr, MDI
NewBalFH HS: F 6.52 2/4/2023 Miles Burr, MDI
Name Year School Finals Points
=======================================================================
Finals
1 Miles Burr 11 Mt. Desert I 6.52R 10
2 Gage Jones 11 Bangor High 6.66 8
3 Connor Wight 11 Ellsworth Hi 6.80 6
4 Kiran Small 11 Bangor High 6.81 4
5 Jorden Cote 12 Old Town Hig 7.05 2
6 Andrew Cote 10 Hampden Acad 7.37 1
Boys 200 Meter Dash Large School
==========================================================================
EMITL Record: R 22.79 2009 Ben Sinclair, Brewer
NewBalFH HS: F 22.84 1/26/2023 Miles Burr, MDI
Name Year School Finals H# Points
==========================================================================
1 Miles Burr 11 Mt. Desert I 22.46R 4 10
2 Gage Jones 11 Bangor High 23.58 4 8
3 Kiran Small 11 Bangor High 23.78 4 6
4 Josh Horr 12 Brewer High 24.22 3 4
5 Lucas Sun 12 Bangor High 24.42 3 2
6 Aiden Mitchell 11 Mt. Desert I 25.10 2 1
7 Andrew Cote 10 Hampden Acad 25.38 2
8 Caleb Jenkins 9 Ellsworth Hi 25.40 2
9 William Francis 10 Old Town Hig 25.93 1
10 Preston Estey 9 Bangor High 27.44 1
11 Kaiden Schmersal 10 Bangor High 27.72 1
Boys 400 Meter Dash Large School
==========================================================================
EMITL Record: R 49.59 2009 Ben Sinclair, Brewer
NewBalFH HS: F 50.60 2/10/2017 Michaiah Robinson, Washington Acad
Name Year School Finals H# Points
==========================================================================
1 James Bertolino 12 Brewer High 54.43 4 10
2 Lucas Sun 12 Bangor High 55.46 3 8
3 Caleb Jenkins 9 Ellsworth Hi 55.95 3 6
4 Raymond Brickle 12 Hampden Acad 56.13 4 4
5 Ben Bateman 12 Hermon High 56.52 3 2
6 Corin Baker 10 Mt. Desert I 58.66 2 1
7 Cooper Neely 9 Old Town Hig 1:00.24 1
8 Alexander Wilcox 9 Hampden Acad 1:01.21 1
9 Aidan Hulsey 10 Hampden Acad 1:01.24 1
10 Griffin Murray 12 Old Town Hig 1:01.35 2
-- Gage Jones 11 Bangor High DQ 4 interference
Boys 800 Meter Run Large School
=======================================================================
EMITL Record: R 1:56.42 2002 Steven DeWitt, Ellsworth
NewBalFH HS: F 1:57.09 2/10/2017 John Hassett, Geo Stevens
Name Year School Finals Points
=======================================================================
1 Charlie Collins 12 Hampden Acad 2:03.77 10
2 Hunter Clukey 12 John Bapst M 2:04.68 8
3 Gilman Taylor 11 John Bapst M 2:06.35 6
4 Ethan Partal 12 Bangor High 2:08.20 4
5 Matthew Cormier 11 Ellsworth Hi 2:09.81 2
6 Wyatt Byther 12 Old Town Hig 2:16.37 1
7 Jed Hartley 10 John Bapst M 2:20.98
8 James Bertolino 12 Brewer High 2:22.24
9 Alex Busko 10 Bangor High 2:22.62
10 Rex Bateman 10 Hermon High 2:23.73
Boys 1 Mile Run Large School
=======================================================================
EMITL Record: R 4:16.38 2014 Dan Curts, Ellsworth
NewBalFH HS: F 4:16.38 2/8/2014 Dan Curts, Ellsworth
Name Year School Finals Points
=======================================================================
1 Charlie Collins 12 Hampden Acad 4:37.65 10
2 Harrison Shain 11 Hampden Acad 4:41.40 8
3 Ethan Partal 12 Bangor High 4:41.98 6
4 Tim Collins 10 Hampden Acad 4:46.03 4
5 Trevor Parlee 11 Brewer High 4:56.51 2
6 Jed Hartley 10 John Bapst M 4:59.79 1
7 Tyler Stillman 12 Hampden Acad 5:00.07
8 Asher Valentine 9 Hampden Acad 5:00.69
9 Rex Bateman 10 Hermon High 5:11.83
10 Adam Miller-treat 12 Bangor High 5:16.27
11 Parker Ashfield 10 Bangor High 5:17.26
Boys 2 Mile Run Large School
=======================================================================
EMITL Record: R 9:10.28 1998 Louie Luchini, Ellsworth
NewBalFH HS: F 9:27.24 2/8/2014 Dan Curts, Ellsworth
Name Year School Finals Points
=======================================================================
1 Charlie Collins 12 Hampden Acad 10:23.08 10
2 Aedyn Hughes 10 Ellsworth Hi 10:23.78 8
3 Harrison Shain 11 Hampden Acad 10:23.89 6
4 Ethan Demerchant 12 Bangor High 10:32.83 4
5 Trevor Parlee 11 Brewer High 10:37.34 2
6 Tim Collins 10 Hampden Acad 10:45.66 1
7 Tyler Stillman 12 Hampden Acad 10:48.05
8 Asher Valentine 9 Hampden Acad 10:51.78
9 Spencer Gordon 12 Old Town Hig 10:57.57
10 Chris Taylor 10 Ellsworth Hi 11:39.69
11 Lukas Modrusan 11 Hermon High 12:10.14
12 Patrick O'brien 12 Bangor High 12:28.83
Boys 55 Meter Hurdles Large School
===================================================================
Top 6 Advance by Time
EMITL Record: R 7.66 2013 Donnie Boyer, Foxcroft
NewBalFH HS: F 7.82 12/29/2018 Zachary Beaton, Hermon
Name Year School Prelims H#
===================================================================
Preliminaries
1 James Cote 12 Old Town Hig 8.59q 1
2 Pablo Garcia 12 Brewer High 8.61q 2
3 Job Johnson 11 Hermon High 8.92q 2
4 Oliver Turner 10 Bangor High 9.90q 2
5 Rowan Tate 11 Ellsworth Hi 9.99q 1
6 Brayden Farmer 12 Old Town Hig 10.18q 1
7 BamiDele Odeleye 10 Brewer High 10.59 2
Boys 55 Meter Hurdles Large School
=======================================================================
EMITL Record: R 7.66 2013 Donnie Boyer, Foxcroft
NewBalFH HS: F 7.82 12/29/2018 Zachary Beaton, Hermon
Name Year School Finals Points
=======================================================================
Finals
1 James Cote 12 Old Town Hig 8.41 10
2 Pablo Garcia 12 Brewer High 8.50 8
3 Job Johnson 11 Hermon High 8.90 6
4 Rowan Tate 11 Ellsworth Hi 9.60 4
5 Oliver Turner 10 Bangor High 9.74 2
6 Brayden Farmer 12 Old Town Hig 10.01 1
Boys 4x200 Meter Relay Large School
==========================================================================
EMITL Record: R 1:34.06 2007 , Bangor
T Martinez, C Illingworth, T Seekins, C Coleman
NewBalFH HS: F 1:34.88 1/24/2015 , MDI
B Murphy, M Hanna, R Bender, R Magnani
School Finals H# Points
==========================================================================
1 Brewer High School 1:38.23 2 10
1) Kyle Horr 11 2) Josh Horr 12
3) Damien Frey 12 4) James Bertolino 12
2 Bangor High School 1:38.30 2 8
1) Kiran Small 11 2) Rowan Eslin 9
3) Oliver Turner 10 4) Lucas Sun 12
3 Mt. Desert Island High School 1:39.10 1 6
1) Aiden Mitchell 11 2) Corin Baker 10
3) Eli Daigle 11 4) Miles Burr 11
4 John Bapst Memorial High Schoo 1:40.39 1 4
1) Gilman Taylor 11 2) Duncan Carlisle 10
3) Kyle Sidaway 12 4) Hunter Clukey 12
5 Hampden Academy 1:41.33 2 2
1) Andrew Cote 10 2) Samuel Burnham 12
3) Leonardo Mlynski 12 4) Raymond Brickle 12
6 Old Town High School 1:44.24 1
1) William Francis 10 2) Cooper Neely 9
3) Griffin Murray 12 4) Jorden Cote 12
7 Hermon High School 1:44.94 1
1) Michael Rene 10 2) Ben Bateman 12
3) Dominick Harriman 12 4) Aaron Belanger 11
Boys 4x800 Meter Relay Large School
=======================================================================
EMITL Record: R 8:17.40 2019 , Hampden
G. Sokoloski, J. Mathies,P. Harriman,W. Lord
NewBalFH HS: F 8:27.94 1/14/2022 , Hampden
C. Collins, H. Shain, B. Simons, A. Valentine
School Finals Points
=======================================================================
-- John Bapst Memorial High Schoo DQ lap short
1) Gilman Taylor 11 2) Filippo Falqui Cao 12
3) Jed Hartley 10 4) Hunter Clukey 12
-- Old Town High School DQ
1) Wyatt Byther 12 2) William Francis 10
3) Griffin Murray 12 4) Spencer Gordon 12
-- Brewer High School DQ lap short
1) Elliot Gandarillas 11 2) LJ Nicholas 10
3) Evan Knowles 9 4) Jayden Richards 11
-- Ellsworth High School DQ lap short
1) Rowan Tate 11 2) Aedyn Hughes 10
3) Chris Taylor 10 4) Matthew Cormier 11
-- Hampden Academy DQ lap short
1) Raymond Brickle 12 2) Asher Valentine 9
3) Tyler Stillman 12 4) Harrison Shain 11
-- Hermon High School DQ lap short
1) Rex Bateman 10 2) Lukas Modrusan 11
3) Aaron Belanger 11 4) Ben Bateman 12
-- Bangor High School DQ lap short
1) Adam Miller-treat 12 2) Alex Busko 10
3) Ethan Demerchant 12 4) Henry Poulin 12
Boys High Jump Large School
=======================================================================
EMITL Record: R 6-07.25 1988 Rob Pendergist, Ellsworth
NewBalFH HS: F 6-06 1/30/2016 Hunter Smith, Foxcroft
Name Year School Finals Points
=======================================================================
1 Drew Pierson 12 Ellsworth Hi 6-02.00 10
2 Corbin Flewelling 12 Old Town Hig 6-00.00 8
3 James Cote 12 Old Town Hig 5-08.00 6
4 Seamus MacDonald 10 Bangor High 5-04.00 4
5 Rowan Tate 11 Ellsworth Hi J5-04.00 2
6 Lendl Zaehringer 12 Brewer High 5-02.00 1
7 Wyatt Byther 12 Old Town Hig J5-02.00
8 Dashel Knapp 10 Bangor High 5-00.00
9 Aidan Hulsey 10 Hampden Acad J5-00.00
Boys Pole Vault Large School
=======================================================================
EMITL Record: R 14-06.25 2017 Johann Bradley, Hampden
NewBalFH HS: F 14-06.25 2/10/2017 Johann Bradley, Hampden
Name Year School Finals Points
=======================================================================
1 Kyle Sidaway 12 John Bapst M 13-01.00 10
2 Pablo Garcia 12 Brewer High 11-00.00 8
3 Oliver Turner 10 Bangor High 9-06.00 6
4 Stephen Bruen 10 Hampden Acad 7-09.00 4
5 Rowan Eslin 9 Bangor High J7-09.00 2
6 Kaiden Schmersal 10 Bangor High 7-00.00 0.50
6 Anthony Godfrey 10 Bangor High 7-00.00 0.50
8 Aaron Belanger 11 Hermon High J7-00.00
-- Peyton Cates 10 Hampden Acad NH
Boys Long Jump Large School
=======================================================================
EMITL Record: R 23-07.25 2018 Cayden Spencer-Thompson, Mattanawcook
NewBalFH HS: F 23-07.25 12/22/2018 Cayden Spencer-Thompson, Mattanawcook
Name Year School Finals Points
=======================================================================
1 Corbin Flewelling 12 Old Town Hig 21-09.25 10
2 Josh Horr 12 Brewer High 20-09.00 8
3 James Cote 12 Old Town Hig 20-00.00 6
4 Samuel Burnham 12 Hampden Acad 19-02.50 4
5 Drew Pierson 12 Ellsworth Hi 19-00.00 2
6 Jorden Cote 12 Old Town Hig 18-10.25 1
7 Connor Wight 11 Ellsworth Hi 18-00.75
8 Kyle Horr 11 Brewer High 17-09.00
9 Lendl Zaehringer 12 Brewer High 17-06.00
10 BamiDele Odeleye 10 Brewer High 16-07.00
11 Karl El Chaer 12 Bangor High 16-00.25
Boys Triple Jump Large School
=======================================================================
EMITL Record: R 48-05.75 2019 Cayden Spencer-Thompson, Mattanawcook
NewBalFH HS: F 48-05.75 1/12/2019 Cayden Spencer-Thompson, Mattanawcook
Name Year School Finals Points
=======================================================================
1 Corbin Flewelling 12 Old Town Hig 46-01.50 10
2 Drew Pierson 12 Ellsworth Hi 41-06.25 8
3 Pablo Garcia 12 Brewer High 39-07.75 6
4 Damien Frey 12 Brewer High 38-08.75 4
5 Job Johnson 11 Hermon High 35-08.00 2
6 Samuel Burnham 12 Hampden Acad 35-07.50 1
7 Brayden Farmer 12 Old Town Hig 33-07.00
Boys Shot Put Large School
=======================================================================
EMITL Record: R 61-05.25 2017 Austin Lufkin, Brewer
NewBalFH HS: F 61-05.25 2/4/2017 Austin Lufkin, Brewer
Name Year School Finals Points
=======================================================================
1 Colby Largay 11 Brewer High 45-08.50 10
2 Josiah Rodriguez 12 Bangor High 44-00.00 8
3 Ian Randall 11 Bangor High 42-10.00 6
4 Austin Lozano 12 Bangor High 42-03.00 4
5 Andrew James 12 Mt. Desert I 41-00.00 2
6 Matthew Fitzpatrick 12 John Bapst M 40-09.75 1
7 Owen Hoovler 11 Bangor High 39-04.75
8 Benjamin Tate 10 Ellsworth Hi 34-03.25
9 Leonardo Mlynski 12 Hampden Acad 34-00.00
10 Aiden McCue 10 Brewer High 32-05.50
11 Andrew Wolfertz 11 Old Town Hig 32-02.50
-- Sam Ingram 12 Mt. Desert I FOUL
Boys 55 Meter Dash Small School
===================================================================
Top 6 Advance by Time
EMITL Record: R 6.52 2023 Miles Burr, Mt. Desert I
NewBalFH HS: F 6.52 2/4/2023 Miles Burr, Mt. Desert I
Name Year School Prelims H#
===================================================================
Preliminaries
1 Dom Ondo 11 Orono High S 6.90q 1
2 Ben Baldwin 10 George Steve 7.16q 3
3 Eion Mccloskey 12 Foxcroft Aca 7.17q 3
4 Sayer Williams 11 George Steve 7.19q 2
5 Kyle Jankunas 12 Foxcroft Aca 7.32q 2
6 Logan Buteau 11 Sumner Memor 7.65q 1
7 Logan Williams 10 Orono High S 7.66 3
8 Nick Kelley 11 Central High 7.67 2
9 Jake Lepper 10 George Steve 7.67 1
10 Joshua Orellana-Cramer 11 Sumner Memor 7.69 2
11 Ty Velgouse 12 Central High 7.79 3
12 Christopher Tapley 10 Bucksport Hi 8.41 1
13 Jayden Runnells 9 Central High 8.43 1
14 Wyatt McHale 11 Bucksport Hi 8.60 2
Boys 55 Meter Dash Small School
=======================================================================
EMITL Record: R 6.52 2023 Miles Burr, Mt. Desert I
NewBalFH HS: F 6.52 2/4/2023 Miles Burr, Mt. Desert I
Name Year School Finals Points
=======================================================================
Finals
1 Dom Ondo 11 Orono High S 6.88 10
2 Ben Baldwin 10 George Steve 7.11 8
3 Eion Mccloskey 12 Foxcroft Aca 7.15 6
4 Sayer Williams 11 George Steve 7.16 4
5 Kyle Jankunas 12 Foxcroft Aca 7.36 2
6 Logan Buteau 11 Sumner Memor 7.65 1
Boys 200 Meter Dash Small School
==========================================================================
EMITL Record: R 22.79 2009 Ben Sinclair, Brewer
NewBalFH HS: F 22.84 1/26/2023 Miles Burr, MDI
Name Year School Finals H# Points
==========================================================================
1 Dom Ondo 11 Orono High S 24.19 3 10
2 Ben Baldwin 10 George Steve 24.95 2 8
3 Eion Mccloskey 12 Foxcroft Aca 25.50 2 6
4 Michael Whitcomb 11 Bangor Chris 25.67 3 4
5 Jake Lepper 10 George Steve 26.75 2 2
6 Caleb Firkin 12 Orono High S 26.92 3 1
7 Logan Buteau 11 Sumner Memor 27.66 1
8 Jack Fisher 10 Sumner Memor 28.14 1
9 Casyn Rushlow 9 Central High 28.31 1
10 Jayden Runnells 9 Central High 30.09 1
Boys 400 Meter Dash Small School
==========================================================================
EMITL Record: R 49.59 2009 Ben Sinclair, Brewer
NewBalFH HS: F 50.60 2/10/2017 Michaiah Robinson, Washington Acad
Name Year School Finals H# Points
==========================================================================
1 Andrew Hipsky 12 George Steve 54.60 3 10
2 Logan Jackson 11 Central High 55.51 3 8
3 Caleb Willett 11 Sumner Memor 57.74 3 6
4 Camden Brown 10 Orono High S 58.78 2 4
5 Thomas Norgang 12 George Steve 59.52 2 2
6 Zachary Peirce 11 Foxcroft Aca 1:00.69 2 1
7 Jack Fisher 10 Sumner Memor 1:03.02 1
8 Jarod Smith 12 Sumner Memor 1:03.17 1
9 Edmund Crownover 9 George Steve 1:08.43 1
Boys 800 Meter Run Small School
=======================================================================
EMITL Record: R 1:56.42 2002 Steven DeWitt, Ellsworth
NewBalFH HS: F 1:57.09 2/10/2017 John Hassett, Geo Stevens
Name Year School Finals Points
=======================================================================
1 Kaleb Colson 11 Sumner Memor 2:05.78 10
2 Gage Bruns 11 Bucksport Hi 2:07.32 8
3 Ethan Sherman 12 Orono High S 2:19.03 6
4 Austin Chandler 12 George Steve 2:19.16 4
5 Asa Berry 11 Sumner Memor 2:21.11 2
6 Riley Hastey 11 Sumner Memor 2:21.14 1
7 Zachary Havey-Chambers 9 Bucksport Hi 2:21.41
8 Saben Tenney 10 Sumner Memor 2:28.91
9 Marlin Orcutt 9 Bucksport Hi 2:37.97
Boys 1 Mile Run Small School
=======================================================================
EMITL Record: R 4:16.38 2014 Dan Curts, Ellsworth
NewBalFH HS: F 4:16.38 2/8/2014 Dan Curts, Ellsworth
Name Year School Finals Points
=======================================================================
1 Kaleb Colson 11 Sumner Memor 4:37.86 10
2 William Hileman 11 Bucksport Hi 4:46.59 8
3 Thomas Norgang 12 George Steve 5:02.21 6
4 Austin Chandler 12 George Steve 5:05.81 4
5 Runner Jarrett 10 Foxcroft Aca 5:07.75 2
6 Riley Hastey 11 Sumner Memor 5:11.12 1
7 Erik Davis 10 George Steve 5:20.15
8 Michael Johnson 11 Bucksport Hi 5:26.79
9 Owen Norgang 10 Blue Hill Ha 5:31.78
10 Emmett Watters 11 George Steve 5:54.34
Boys 2 Mile Run Small School
=======================================================================
EMITL Record: R 9:10.28 1998 Louie Luchini, Ellsworth
NewBalFH HS: F 9:27.24 2/8/2014 Dan Curts, Ellsworth
Name Year School Finals Points
=======================================================================
1 Kaleb Colson 11 Sumner Memor 10:11.50 10
2 William Hileman 11 Bucksport Hi 10:14.72 8
3 Gage Bruns 11 Bucksport Hi 10:28.17 6
4 Runner Jarrett 10 Foxcroft Aca 11:10.26 4
5 Ira Buchholz 12 George Steve 11:16.32 2
6 Austin Chandler 12 George Steve 11:27.01 1
7 Erik Davis 10 George Steve 11:29.83
8 Michael Johnson 11 Bucksport Hi 11:31.81
9 Asa Berry 11 Sumner Memor 11:51.22
10 Riley Hastey 11 Sumner Memor 12:18.32
11 Robert Bennett 12 George Steve 12:36.57
Boys 55 Meter Hurdles Small School
===================================================================
Top 6 Advance by Time
EMITL Record: R 7.66 2013 Donnie Boyer, Foxcroft
NewBalFH HS: F 7.82 12/29/2018 Zachary Beaton, Hermon
Name Year School Prelims H#
===================================================================
Preliminaries
1 Owen Conner Self 12 Orono High S 8.38q 2
2 Andrew Hipsky 12 George Steve 8.49q 1
3 Kyle Jankunas 12 Foxcroft Aca 8.71q 2
4 Caleb Willett 11 Sumner Memor 8.94q 1
5 Sayer Williams 11 George Steve 9.67q 1
6 Jarod Smith 12 Sumner Memor 9.88q 2
7 Ryan St Peter 12 Central High 9.94 2
8 Jack Fisher 10 Sumner Memor 10.06 1
Boys 55 Meter Hurdles Small School
=======================================================================
EMITL Record: R 7.66 2013 Donnie Boyer, Foxcroft
NewBalFH HS: F 7.82 12/29/2018 Zachary Beaton, Hermon
Name Year School Finals Points
=======================================================================
Finals
1 Owen Conner Self 12 Orono High S 8.27 10
2 Andrew Hipsky 12 George Steve 8.42 8
3 Caleb Willett 11 Sumner Memor 8.46 6
4 Kyle Jankunas 12 Foxcroft Aca 8.60 4
5 Sayer Williams 11 George Steve 8.90 2
6 Jarod Smith 12 Sumner Memor 9.67 1
Boys 4x200 Meter Relay Small School
==========================================================================
EMITL Record: R 1:34.06 2007 , Bangor
T. Martinez, C, Illingworth, T Seekins, C. Coleman
NewBalFH HS: F 1:34.88 1/24/2015 , MDI
B Murphy, M Hanna, R Bender, R Magnani
School Finals H# Points
==========================================================================
1 Orono High School 1:39.44 2 10
1) Dom Ondo 11 2) Alex Maheu 11
3) Caleb Firkin 12 4) Brady Maheu 10
2 George Stevens Academy 1:40.46 2 8
1) Sayer Williams 11 2) Ben Baldwin 10
3) Jake Lepper 10 4) Andrew Hipsky 12
3 Central High School 1:42.81 2 6
1) Kevin Howard 12 2) Kennen Bean 12
3) Nick Kelley 11 4) Logan Jackson 11
4 Foxcroft Academy 1:49.04 1 4
1) Kyle Jankunas 12 2) Khang Nguyen 10
3) Zachary Peirce 11 4) Eion Mccloskey 12
5 Bucksport High School 1:56.58 1 2
1) Zachary Havey-Chambers 9 2) Wyatt McHale 11
3) Marlin Orcutt 9 4) Christopher Tapley 10
Boys 4x800 Meter Relay Small School
=======================================================================
EMITL Record: R 8:17.40 2019 , Hampden
G. Sokoloski, J. Mathies,P. Harriman,W. Lord
NewBalFH HS: F 8:27.94 1/14/2022 , Hampden
C. Collins, H. Shain, B. Simons, A. Valentine
School Finals Points
=======================================================================
1 Central High School 9:21.75 10
1) Kevin Howard 12 2) Kennen Bean 12
3) Casyn Rushlow 9 4) Logan Jackson 11
2 Orono High School 9:32.36 8
1) Saladin Wise 10 2) Ethan Sherman 12
3) Camden Brown 10 4) Hashim Wise 12
3 George Stevens Academy 10:02.62 6
1) Ira Buchholz 12 2) Emmett Watters 11
3) Robert Bennett 12 4) Thomas Norgang 12
Boys High Jump Small School
=======================================================================
EMITL Record: R 6-07.25 1988 Rob Pendergist, Ellsworth
NewBalFH HS: F 6-06 1/30/2016 Hunter Smith, Foxcroft
Name Year School Finals Points
=======================================================================
1 Alex Maheu 11 Orono High S 5-08.00 10
2 Caleb Firkin 12 Orono High S 5-06.00 8
3 Dylan Courtney 10 Bucksport Hi 5-04.00 6
Boys Pole Vault Small School
=======================================================================
EMITL Record: R 14-06.25 2017 Johann Bradley, Hampden
NewBalFH HS: F 14-06.25 2/10/2017 Johann Bradley, Hampden
Name Year School Finals Points
=======================================================================
1 Dylan Courtney 10 Bucksport Hi 11-00.00 10
2 Connor Moeykens 9 Orono High S 10-00.00 8
3 Camden Brown 10 Orono High S 9-06.00 6
4 Michael Whitcomb 11 Bangor Chris 9-00.00 4
5 Hashim Wise 12 Orono High S 8-06.00 2
6 Eli Swartz 11 Orono High S 7-00.00 1
-- Alex Maheu 11 Orono High S NH
Boys Long Jump Small School
=======================================================================
EMITL Record: R 23-07.25 2018 Cayden Spencer-Thompson, Mattanawcook
NewBalFH HS: F 23-07.25 12/22/2018 Cayden Spencer-Thompson, Mattanawcook
Name Year School Finals Points
=======================================================================
1 Owen Conner Self 12 Orono High S 20-08.75 10
2 Hashim Wise 12 Orono High S 18-06.00 8
3 Michael Whitcomb 11 Bangor Chris 18-05.75 6
4 Logan Williams 10 Orono High S 18-05.50 4
5 Saladin Wise 10 Orono High S 18-01.75 2
6 Kevin Howard 12 Central High 16-05.00 1
7 Eion Mccloskey 12 Foxcroft Aca 16-04.50
8 Zachary Peirce 11 Foxcroft Aca 15-07.75
9 Ty Velgouse 12 Central High 15-02.75
10 Tony Bisson 11 Orono High S 15-01.75
11 Casyn Rushlow 9 Central High 13-04.25
12 Joshua Orellana-Cramer 11 Sumner Memor 12-01.00
Boys Triple Jump Small School
=======================================================================
EMITL Record: R 48-05.75 2019 Cayden Spencer-Thompson, Mattanawcook
NewBalFH HS: F 48-05.75 1/12/2019 Cayden Spencer-Thompson, Mattanawcook
Name Year School Finals Points
=======================================================================
1 Owen Conner Self 12 Orono High S 37-10.50 10
2 Caleb Willett 11 Sumner Memor 37-01.00 8
3 Saladin Wise 10 Orono High S 35-05.50 6
4 Connor Moeykens 9 Orono High S J35-05.50 4
5 Kennen Bean 12 Central High 34-10.25 2
6 Ira Buchholz 12 George Steve 32-07.00 1
7 Logan Buteau 11 Sumner Memor 31-03.75
Boys Shot Put Small School
=======================================================================
EMITL Record: R 61-05.25 2017 Austin Lufkin, Brewer
NewBalFH HS: F 61-05.25 2/4/2017 Austin Lufkin, Brewer
Name Year School Finals Points
=======================================================================
1 Noah Parker 12 Orono High S 44-11.50 10
2 Ashton Paul 11 Orono High S 40-03.00 8
3 Cooper Sawyer 11 Orono High S 39-02.00 6
4 Antoine Francis 12 Orono High S 37-01.00 4
5 Brady Grant 10 Orono High S 36-04.25 2
34-09.75 FOUL
6 Charles St Lawrence 12 George Steve 35-00.50 1
35-00.50 32-05 35-04.50 34-04 FOUL 33-04.50
7 Ashton Duran 11 Orono High S 34-10.00
34-10 34-08 34-04.50 32-08.25 33-02 33-04
8 Jarod Smith 12 Sumner Memor 31-03.00
29-00.75 30-03.75 31-03
9 Colin Wheeler 11 Central High 29-07.00
26-04.25 29-07 27-09.50
10 Tony Bisson 11 Orono High S 28-08.00
FOUL 27-01.50 28-08
11 Rylee Whalen 12 Bucksport Hi 24-07.50
24-06 FOUL 24-07.50
12 Jacson Saunders 10 Bucksport Hi 24-02.25
24-02.25 23-10.50 23-02
More From WDEA Ellsworth Maine