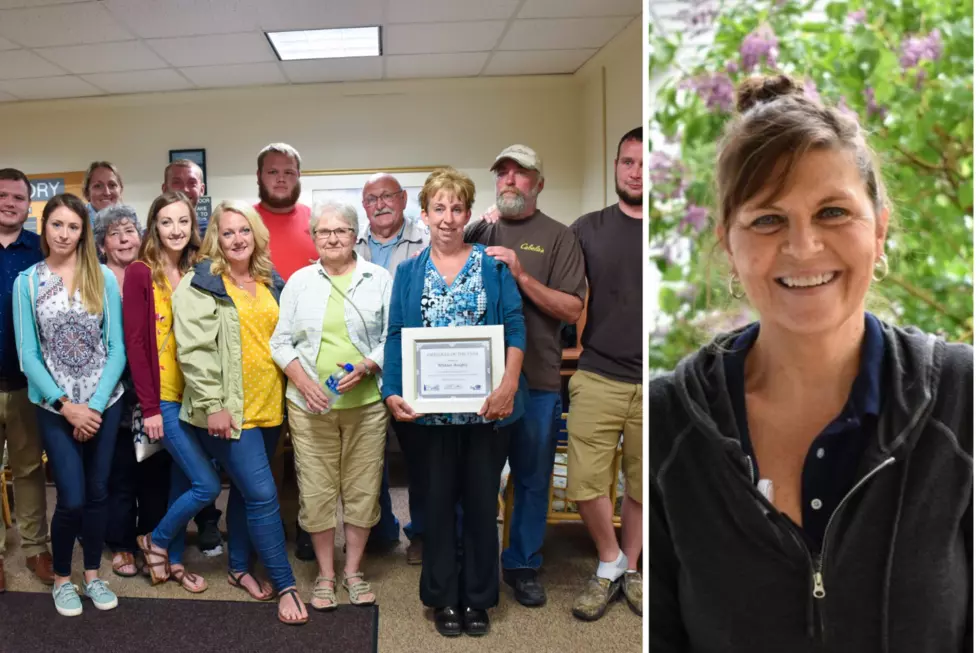 MDI Hospital Announces Employees of the Year at Annual Meeting
Photos MDI Hospital
MDI Hospital held its annual meeting on Monday, August 5th at the Bar Harbor Club and spoke about the  new outpatient music therapy and cancer patient navigator programs, its educational initiatives and the success of its participation in statewide quality improvement efforts as well as recognizing the employees of the year.
During the meeting, MDI Hospital President/CEO Arthur J. Blank spoke about an innovative new outpatient music therapy program led by music therapist Melissa Violette that is helping participants set and achieve individualized therapeutic goals through music. The organization also has a new cancer patient navigator program designed to help patients overcome socio-economic barriers to care. "With a three-year grant from the Maine Cancer Foundation, we have developed and launched a unique navigator program that works to guide cancer patients throughout screening, diagnosis, treatment and survivorship," said Blank.
As part of MDI Hospital's efforts to provide the community with integrated care, the organization participates in many quality and educational initiatives. Blank was pleased to report that Maine has been recognized for top performance among Critical Access Hospitals with a 2019 Medicare Beneficiary Quality Improvement Project (MBQIP) Quality Performance Award from the Health and Human Services Administration. Recent data has shown that among Critical Access Hospitals in Maine, MDI Hospital's metrics have improved more than those of their peers in the area of preventive medicine, he said. "Behind the numbers is a crucial fact: Mount Desert Island's residents are seeing better health outcomes as a result."
Attendees also learned that MDI Hospital's educational initiatives have a new leader. "After 32 years as a trusted family physician—during which he often pioneered innovative solutions to our community's broader health challenges—Dr. Julian Kuffler is now MDI Hospital's Director of Medical Education," said Blank. In his new role, Dr. Kuffler will work to ensure that each educational initiative is sustainable and that the organization continues to engage new partners and peer institutions in order to empower and inspire the next generation of rural healthcare providers.
Monday's meeting concluded with the announcement of the organization's Employees of the Year. This year's recipients are Allison Lovejoy of Birch Bay Retirement Village and Whitney Doughty of MDI Hospital and Health Centers. The recipients were chosen by their fellow employees for their dedication and commitment to the organization.
Allison has worked in dining and housekeeping at Birch Bay Retirement Village since 2017, while Whitney worked at MDI Hospital and Health Centers in various capacities since 2012, most recently in reception at Community Health Center in Southwest Harbor. Whitney passed away as a result of an ATV accident on May 21, and the Doughty family accepted the award on her behalf. In honor of her memory, the hospital presented her family with a contribution to The Whitney Doughty Scholarship Fund at Sumner Memorial High School. The scholarship will be awarded to a graduating cheerleader pursuing a career in the medical field.
More From WDEA Ellsworth Maine