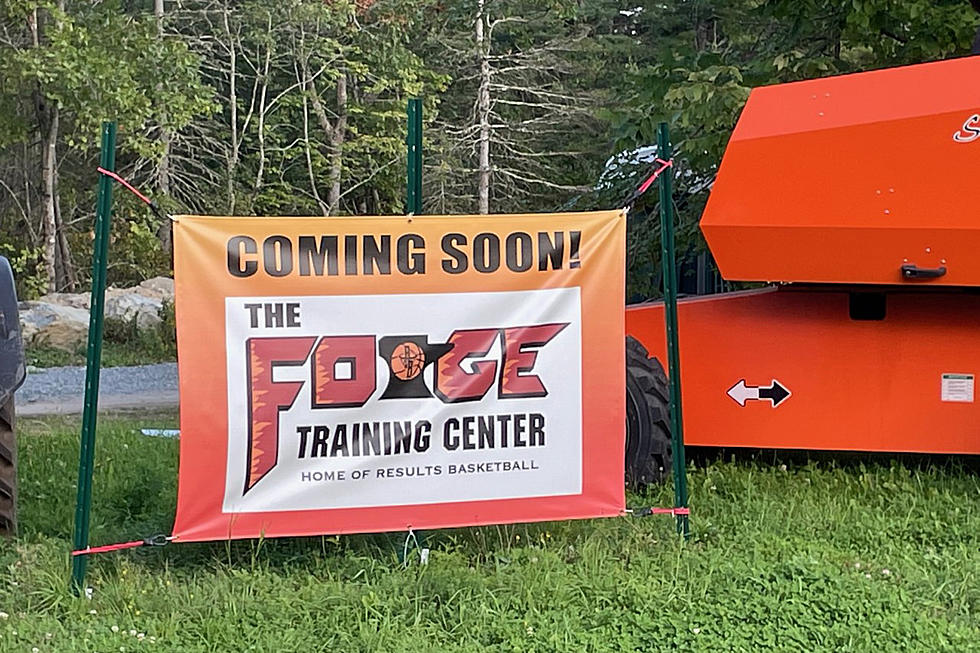 Brand New Basketball Training Facility Being Constructed In Ellsworth
TSM photo
Area kids are wild about basketball and a new 9,000-square-foot training facility being built in Ellsworth will be just the ticket for a lot of them.
The new facility will be called The Forge, and it'll be an expansion of Results Basketball which is co-owned by Mark Baxter, who currently teaches kids how to do it right on the hardwood in the Ellsworth area already.  Results Basketball holds basketball clinics, small-group and private sessions as well.  The company has been in business now for about 10 years.
But the new facility will certainly be an upgrade, and young boys and girls from all over eastern and northern Maine are expected to attend.
When construction is completed, the new facility is expected to have a full regulation-sized basketball court with a few extra baskets off to the side as well.  It will also contain a brand new 2,300 square-foot strength and fitness center.  The second floor will be 3,500 square feet in size and will be used for storage, at least initially.
The Forge is being constructed on Commerce Park, which is just off both State Street and Lakes Lane, right next to the Ellsworth Trail.
Mr. Baxter is from Holden and is a former assistant coach of the Husson University basketball team.  He has also coached various high schools across Maine and played for the University of Maine at Presque Isle in his college years.
Construction work on The Forge has been happening on and off throughout the summer in Ellsworth and we have no definitive date of the grand opening.
25 Must-Visit Places In Ellsworth
The bustling and scenic town of Ellsworth has a lot of history, old and new and lots of experiences to have, old and new. Whether you want to take a train ride, take the kids to the park, get a sweet tattoo, treat yourself or find that after-party early morning breakfast, here are 25 businesses and locations to really get some memorable experiences at the good vibes town Downeast Maine, Ellsworth.
25 Maine Businesses With the Most Employees
Here is information
gathered from Zippia.com
that lists the top employers in Maine that are based out of Maine. See what the top businesses are, where they are based, and how many employees they have.
More From WDEA Ellsworth Maine